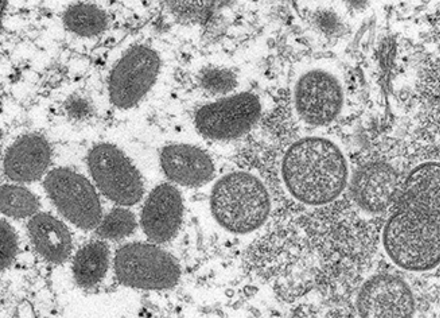 Click to jump to a section on this page:
Go To Information for clinicians
Scientists at the Centers for Disease Control and Prevention (CDC) are tracking multiple cases of the human version of the monkeypox virus (hMPXV) which have been reported in several countries that don't normally report the virus, including the United States and Canada. This is a rare disease caused by infection with the human monkeypox virus. hMPXV belongs to the Orthopoxvirus genus in the family Poxviridae, which also includes smallpox and cowpox viruses. To reduce stigma and discrimination, the Vermont Department of Health will refer to this virus as hMPXV while the World Health Organization works to officially rename the virus.
Vermont now has a confirmed case of illness from hMPXV. The risk to the general public remains low. However, we anticipate more confirmed cases of hMPXV, and it is likely more cases are going undetected. 
The Vermont Department of Health's infectious disease epidemiologists are following the situation closely, working with the CDC, and prepared to respond if necessary. 
Vermont Health Alerts & Advisories
US Monkeypox 2022 Situation Summary (CDC) 
Travel notice for Monkeypox in Multiple Countries (CDC)
What Vermonters Can Do
Anyone with a rash that looks like hMPXV (which may look like pimples, blisters or sores) should talk to their health care provider, even if they don't think they've had contact with someone who has hMPXV. If you do not have a health care provider, call 2-1-1 to be connected to care, or contact the nearest federally qualified health center or one of Vermont's free & referral clinics.
Cases of hMPXV infections have been reported in many countries around the world. Vermonters can be safe when traveling abroad by avoiding close contact, including sexual contact, with people who are sick or have a rash. Wash your hands often and avoid contact with animals. Learn more about traveling safely from the CDC.
Vermonters can learn how to make informed choices when in spaces or situations where hMPXV could be spread. Learn about safer sex and social gatherings from the CDC.
Find more on preventing hMPXV infections at CDC 
How it Spreads
hMPXV can spread to anyone through close and often skin-to-skin contact with someone who is infected. At this time, gay, bisexual, and other men who have sex with men make up a high number of early cases and might be at higher risk of coming into contact with the virus.
hMPXV is mainly spread through direct contact with a rash, sores or scabs from someone who is infected.
It is not considered a sexually transmitted infection, but it can spread during sexual encounters if there is direct contact with sores or bodily fluids.
hMPXV can also spread through respiratory fluids like saliva when people have close, face-to-face contact (for example, when kissing, cuddling, having sex, or living with or caring for someone who is ill with hMPXV infection).
People can also become infected through direct contact with materials that have touched body fluids or sores, such as clothing or linens.
People infected with hMPXV should avoid contact with animals, including pets, livestock, and wildlife, to prevent spreading the virus while they are contagious.
hMPXV can be spread from the time symptoms start until all sores have healed and a fresh layer of skin has formed. This can take several weeks. 
Symptoms
Symptoms usually begin 6 to 13 days after being infected but can range from 5-21 days. Symptoms of illness from hMPXV can be very mild. The virus can be spread even by people who might not realize they are infected.
Most people get better in two to four weeks without medical treatment. However, symptoms can be very painful and people might have permanent scarring from the rash.
The most common symptom of illness from hMPXV is a rash, which may look like pimples, blisters, or sores. It can also look like other more common rashes such as chicken pox, syphilis or shingles.
Other symptoms may include:
Fever
Headache
Muscle aches
Backaches
Swollen lymph nodes
Chills 
Exhaustion
A person can experience a rash only. A rash usually appears 1-3 days after fever but may occur without other symptoms. 
Vaccines and Treatments
At this time, there is a limited supply of JYNNEOS vaccine available in Vermont. The federal government is working to rapidly increase available vaccine doses, and we expect more vaccine in Vermont in the coming weeks and months. For now, the Health Department recommends administering as many first doses as possible of this two-dose vaccine to eligible Vermonters (see below). As vaccine supply expands, we will make second doses available. We will also continue to advocate for more vaccine doses at the federal level. Learn more about JYNNEOS vaccine
We acknowledge the frustration and concern this might cause when demand for vaccine does not meet the current supply. The Health Department will assess our vaccine supply weekly and revisit our vaccine strategy as more doses become available.
Vaccination is FREE and available regardless of immigration status. 
Current Eligibility:
People who have had recent exposures to individuals with confirmed human monkeypox virus (hMPXV) infections.
People who have had recent exposures to individuals with possible hMPXV infections AND who meet any of the following criteria that would put them at risk of more severe illness:

Immunocompromised
Atopic dermatitis
Pregnant or breastfeeding
Under the age of 8 years

Certain health care and laboratory personnel whose jobs regularly put them at high risk of exposure to the virus, such as performing testing or caring for multiple people infected with hMPXV.
If you are eligible for a vaccine, please contact your health care provider.  If you do not have a health care provider, call 2-1-1 to be connected to care, or contact the nearest federally qualified health center or one of Vermont's Free & Referral Clinics.
Treatment after an exposure is available on a case-by-case basis as determined by the Vermont Health Department and your health care provider. 
Communication Resources for hMPXV 
hMPXV Information for Clinicians
Clinicians who suspect hMPXV should call the Infectious Disease Program at (802) 863-7240, Option 2 to speak with an epidemiologist 24/7. 
Patients eligible for vaccination may contact your office looking for this vaccine. If you have a patient who meets eligibility requirements, please contact the Health Department at [email protected]. You will be referred to an administering location or instructed on how to obtain a dose for your patient.
Clinicians who see a patient with a rash characteristic of hMPXV and one or more risk factors below should have a low threshold for testing for hMPXV. Other more common diseases (e.g., HSV, VZV) can be simultaneously ruled in or out through usual diagnostic channels. 
People are at higher risk of exposure to the virus if they report one or more of the following within 21 days of illness onset:
Contact with someone who had a rash that looks like hMPXV or someone who was diagnosed with confirmed or probable hMPXV.
Skin-to-skin contact with someone in a social network experiencing hMPXV activity, this includes men who have sex with men who meet partners through a online websites, digital applications ("app"), or social events (for example a bar or party). 
Travel outside the US to a country with confirmed cases of hMPXV or where hMPXV activity has been ongoing.
Contact with a dead or live wild animal or exotic pet that exists only in Africa or used a product that comes from such animals (for example game meat, creams, lotions, powders, etc.).
What to do if Clinicians suspect hMPXV?
Call Vermont Department of Health Infectious Disease Program at 802-863-7240 (option 2) to speak with an epidemiologist 24/7. They will help determine whether testing is indicated. If so, they will guide you through the process of specimen collection and sending specimens to the Vermont Department of Health Laboratory (VDHL). Testing is also available through the commercial labs Labcorp, Aegis and Quest. Turn-around time and cost may vary by lab. 
How to Collect and Send a Specimen for hMPXV Testing 
Locate collection materials
There are pre-made kits in:
Vermont hospitals.
Vermont Department of Health District Offices (available M-F 7:45 am – 4:30 pm).
Some outpatient clinics.
If you don't have access to a kit, you may be able to assemble your own. Please consult with an Infectious Disease Program epidemiologist at (802) 863-7240, Option 2 when assembling collection materials. You'll need: 
Four dry Dacron, nylon or polyester swabs with plastic, wood or thin aluminum shafts
Four sterile 15ml conical tubes (preferred) or containers
Labels for tubes / containers
Biosafety bag
Cooler
Frozen ice packs
Collect the specimen
Please consult with Infectious Disease Program epidemiologists at (802) 863-7240 (option 2) before colleting a specimen.
Read through the entire directions before proceeding. We recommend labeling your tubes before you begin specimen collection so that swabs can go directly into pre-labeled tubes. 
If possible, select two lesions, preferably in different stages and/or locations (e.g., vesicle, pustule) 
Vigorously swab or brush each lesion with two separate sterile dry polyester, nylon or Dacron swabs. This will result in two pairs of swabs, one pair for the Vermont Department of Health Laboratory (VDHL) and one pair for CDC. If two lesions are swabbed, there should be a total of four swabs. For example: if you chose an elbow lesion and a knee lesion, there should be two elbow swabs and two knee swabs.  
Insert each swab into a sterile screw-capped tube, such as a 15mL conical tube, or a 1.5- or 2-mL screw-capped tube with O-ring. A sterile container can be used if tubes are not available. Do NOT add or store in viral or universal transport media. Label each tube to indicate which lesion the swab was taken from (e.g., elbow, knee). For example: if you chose an elbow and a knee lesion, there should be four tubes total, two marked as elbow and two marked as knee. Each tube would contain one swab. 
Refrigerate (2–8

o

C) specimens within an hour after collection and maintain at this temperature during shipping.
Package the specimen
Complete a Clinical Laboratory Test Request Form for each site. Include the site of the lesion on the request form. Select "Other" under Molecular Virology and write in "NVO".
Specimens should be packaged and transported as Category B specimens as outlined in Transporting Infectious Substances Safely.
Segregate tubes by site of lesion. In each biohazard bag, include the request form in the outer pocket, not in the bag with the specimens. For example: if you chose an elbow and a knee lesion, you should have two bags, one with the two tubes labeled "elbow" and one with the two tubes labeled "knee." 
Place the bags with specimens and request forms in a cooler with a frozen ice pack.
Send the specimens to the Vermont Department of Health Laboratory
Seal the cooler and label to: VDHL, 359 South Park Dr, Colchester, VT 05446. Please add a UN 3373 Biological Substance, Category B label to comply with DOT/IATA shipping regulations. Mark "NVO" on the outside of the package. 
The on-call epidemiologist will provide guidance on shipping specimens to the Vermont Department of Health Laboratory in Colchester through a courier service.
Receiving the results
Someone from Epidemiology will verbally notify you of the results.
An official lab report will follow based on contact information provided on the Clinical Laboratory Test Request Form.
Providers will share the results with their patients. 
Resources for Clinicians
Download the 2022 HMPXV Outbreak Partner Toolkit
Website
Webinars
What clinicians need to know about hMPXV including guidance about the typical clinical presentation, treatment options, pre- and post-exposure prophylaxis, and reporting to public health authorities.
Health Alert Network (HAN)
Vermont Department of Health
Centers for Disease Control and Prevention