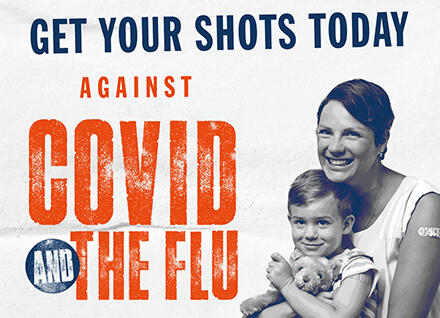 Know your rights when getting free vaccines.
You do NOT need insurance to get vaccinated. You may be asked if you have insurance for reimbursement reasons, but you cannot be denied vaccination if you have no insurance nor can you be charged an office visit or other fee for vaccination.
You do NOT need to share a Social Security Number or driver's license/state ID number. In Vermont, you are not required to provide that information and you cannot be turned away from getting vaccinated if you do not provide identification. If you do provide it, it will be used only for the pharmacy's reimbursement purposes.
You do NOT need to be a U.S. citizen. Everyone can receive COVID-19 services, regardless of immigration status. Information you share will not be shared with immigration services and vaccinations paid for by the federal. government will not impact anyone's current or future immigration status.
Stay Up to Date with Your Vaccines
You are up to date with your COVID-19 vaccines when you have received all doses in the primary series and all boosters recommended for you, when eligible.
CDC recommends:
COVID-19 primary series vaccines for everyone ages 6 months and older.
Updated (bivalent) boosters for everyone ages 5 years and older who completed their primary COVID-19 vaccine series or received their last booster or additional dose at least two months ago.
Novavax boosters (monovalent) are also an option for people ages 18 and older who are unable or unwilling to get an updated (bivalent) booster.
People who are moderately or severely immunocompromised follow specific recommendations for COVID-19 vaccines, including boosters.
Find more on recommended doses from CDC
COVID-19 VACCINES FOR CHILDREN 
Everyone 6 months of age and older is now eligible to get a COVID-19 vaccination. See recommended vaccine doses by age group (CDC) 
Just like teens and adults, children can get vaccinated through their pediatricians or family health care providers, local pharmacies (ages three and up), or at state-run walk-in clinics. At walk-in clinics, children and teens under 18  must have a parent or guardian who can give consent or bring a completed Immunization Clinic Consent Form and Prevaccination Checklist for COVID-19 Vaccine. Find translations below
Read more about COVID-19 vaccine safety in children and teens 
Resources for parents and caregivers:
Help Getting Vaccinated
If you cannot get vaccines through any of the options above, you can call the Health Department at 802-863-7200 or toll-free 800-464-4343.
Need a ride? If you do not have transportation to get a free COVID-19 vaccine or booster, please contact your local public transportation provider or call Vermont Public Transportation Association (VPTA) at 833-387-7200.
Vermonters who are homebound can get the vaccine in their homes. Homebound means you are not able to leave your home for scheduled medical care or non-medical appointments. Please reach out to your local home health agency, or if you are not in the service of a home health agency, you may request an appointment by calling 802-863-7200 (toll-free 800-464-4343), Monday through Friday, 8:00 a.m. to 4:30 p.m.
English language learners, or immigrant or refugee community members, who would like to learn about more about vaccine clinics can contact the Association of Africans Living in Vermont (AALV) at 802-985-3106. 
Find a Walk-in Clinic
We are providing walk-in clinics to make it easier for Vermonters to get COVID-19 and flu vaccines.
Flu shots for ages 6 months to 64 years. For people ages 65 and older, please contact your health care provider or local pharmacy to find out how to get vaccinated.  Learn more about flu shots
Updated (bivalent) boosters for ages 12+, look for Pfizer Bivalent Booster 12+ or Moderna Bivalent Booster 18+.
For ages 12-17, look for clinics that offer the Pfizer vaccine and bring a parent or guardian with you.
For children ages 5-11, look for a clinic that offers Pfizer (Ages 5-11).
For children ages 6 months – 5 years, look for a clinic that offers Moderna (under age 6) or Pfizer (under age 5).
Novavax is not currently available at our walk-in clinics, but you can ask your Primary Care Provider, and it can be found at many health clinics around the state. Find locations by vaccine type at Vaccines.gov 
ASL interpretation is available by video at walk-in vaccination clinics.
Click here for all COVID-19 and Flu walk-in vaccine clinics
New Vaccine Cards and Requesting Vaccine Records
If you lost your vaccine card or your information is wrong:
You may be able to get a new CDC COVID-19 vaccination card at the pharmacy or health care provider's practice where you were vaccinated. Not all pharmacies or providers provide this service.
Vermont Immunization Registry (IMR) can give you a copy of your vaccination record by mail (within a week) or secure email (within two business days). NOTE: The IMR and CDC cannot issue you a new white CDC COVID-19 vaccination card or provide QR codes. Instructions on how to request vaccine records
Recommendations for keeping your vaccination card and record up to date
Keep your vaccine card in a safe place so you don't lose it, like in your wallet or stored with other important documents. You can also take a picture of it with your smartphone.
Do not laminate your vaccine card. The ink on your card could run when heat is applied making it difficult to read. Also, additional doses will not be able to be recorded if the card is laminated.
If vaccinated in another state, check with your doctor that your vaccination is on record. This will ensure that both your medical records are updated, and your vaccine is recorded in the Vermont Immunization Registry.