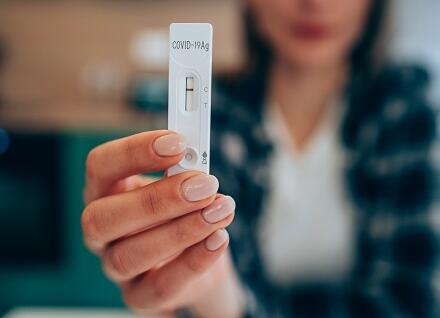 When to get Tested
If you have symptoms of COVID-19 ─ even if the symptoms are mild, and even if you previously had COVID-19. Test as soon as possible.
If you are a close contact of someone who tested positive for COVID-19 and you are not vaccinated or not up to date on your vaccines. Learn more about when close contacts should get tested.
If you are using at-home antigen tests, please follow the FDA recommendations on testing with antigen tests. This includes testing more than once, each 48 hours apart.
If you test positive and you are age 65 or older or have a medical condition that may put you at risk, reach out to your health care provider to ask about treatment — as soon as you get a positive test result. Learn more about treatment
Find tips and learn more from the CDC about self-testing 
Learn about Test Types
At-home antigen test: 
Is approved for ages 2 and older.
Best when two tests are taken at least 24 hours apart.
Should be used if you tested positive for COVID-19 in the past 90 days. Other test types, such as PCR, could continue to give a positive result because of your previous infection.
PCR test: 
Is approved for all ages, including under 2 years.
Might be available through your doctor's office.
Test instructions and translations
Report Your Results
If there is no option to automatically report your self-test result, please report results (positive or negative) to the Health Department using our online form. Your response is confidential, and reporting your test result helps the Health Department understand how many Vermonters are being tested for COVID-19 and how the virus is spreading in our communities.