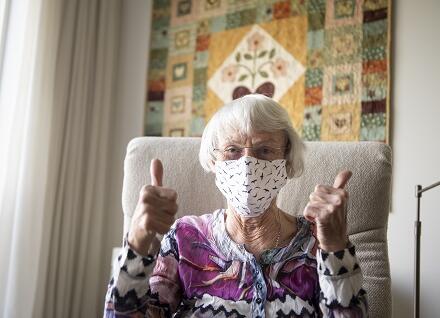 The Health Department works closely with the Department of Disabilities, Aging and Independent Living and long-term care facilities to help them prepare for cases of COVID-19. Other types of group living settings, also called congregate care settings, can follow strategies to detect and prevent the spread of respiratory viruses like the new coronavirus.
To report a case of COVID-19 in a long-term care facility, call the Infectious Disease Epidemiology team at 802-863-7240 (option 7 after business hours or on weekends; option 8 during business hours), or email AHS.VDHEpiCOVID19Program@Vermont.gov (monitored during business hours).
WHAT WE ARE DOING
Outreach
The Health Department has contacted all long-term care facilities, nursing homes, assisted living facilities, and senior housing facilities proactively to review strategies to prevent COVID-19 infection and develop plans to respond immediately if an infection is identified. We complete an in-depth assessment by phone and provide guidance about personal protective equipment and other infection prevention and control recommendations. We continue to stay in touch for any technical assistance needs and additional questions.
Rapid Response
If a case of COVID-19 is associated with a long​ term care facility, a rapid response team, including staff from Health Department as well as other State partners, is quickly activated. They contact the facility to provide recommendations and infection control support. The team begins an investigation ­to determine the source of the infection and how it may be spreading. They ask questions and collect information to help identify anyone the patient had close contact with. The team communicates with facility staff to ensure containment measures are being implemented, which will differ depending on the type of setting.
Universal Testing at Facilities
Vermont is taking additional measures to slow the spread of COVID-19 in certain types of group living facilities, including nursing homes, assisted living residences, residential care homes, therapeutic community residences, residential treatment centers, correctional facilities, state psychiatric care facilities, and homeless shelters.
If a staff member or resident tests positive for COVID-19, testing of staff and residents, potentially facility-wide might be recommended in consultation with the Health Department. If testing is recommended, the Health Department provides technical assistance to make sure that the facility is connected with testing resources and provides guidance on when additional rounds of testing should take place. The Health Department also works closely with the facility to provide infection control guidance and resources.
Residents and staff of group living facilities (for example, long-term care facilities or correctional facilities) and new admissions to nursing homes, assisted living residences and residential care homes must complete the full 14-day quarantine. Fully vaccinated new admissions and exposed staff do not need to quarantine.
Long term care facility report
Active Outbreaks in Long Term Care Facilities
The table below reflects cumulative counts of all Vermont COVID-19 cases in long-term care facilities in Vermont during an active outbreak at the facility as of the date above. These counts do not reflect people with an active COVID-19 infection. Facilities are removed from this table if there have been no additional cases during the most recent 14 days. The count includes the following confirmed and probable cases:
Initial case(s), regardless of their source of infection, who exposed other cases within the facility.
Cases among residents, staff, visitors, or external contractors (i.e. plumbers, electricians, hospice nurses, etc.) with a known source of exposure within the facility.
Cases may be counted at more than one facility if they meet the above criteria at more than one facility.
There is a row for every facility with an active outbreak. In order to protect people's privacy, a facility name or case count may not be shown. We follow these rules:
When a facility has less than 25 residents and staff, the name of the facility is shown as Long Term Care Facility A, B, C, (for example).
When the case count is less than 6 or when more than 75% of residents and staff and at the facility are infected, the case count is not shown.
This information is updated on Tuesdays.
January 11, 2022
| Facility Name | cumulative COVID-19 Cases |
| --- | --- |
| Mayo Rehab & Continuing Care | 9 |
| Springfield Rivers Nursing & Rehab | 10 |
| Harbor Village Senior Living | 11 |
| The Manor | 13 |
| Elderwood at Burlington | 15 |
| Thompson House Nursing Home | Not Shown |
| Rutland Health & Rehab | Not Shown |
| The Pines at Rutland Center for Nursing & Rehab | Not Shown |
| Mountain View Center | Not Shown |
| Birchwood Terrace Rehab & Healthcare | Not Shown |
COVID-19 Vaccine Access in Long Term Care Facilities
Residents and staff of licensed long-term care facilities were among the first to be vaccinated in Vermont, through the Federal Pharmacy Partnership for Long-Term Care.  This program ended on June 30, 2021.  The COVID-19 Vaccine Access in Long-term Care Settings, a CDC resource page, was created to help LTCF's answer questions and connect with resources. On this page, you will find:
Planning for Booster Doses in Long Term Care Facilities

Work with your existing pharmacy partner
Most facilities should have an established relationship with a pharmacy, though not all pharmacies can provide COVID-19 vaccine at this time.  LTCF's should confirm this capability with their existing partner. If your pharmacy has already been providing the COVID-19 vaccine, discuss their plan for booster doses. 
 
Establish contact with a new pharmacy partner
If you do not have an established relationship with a pharmacy or your pharmacy partner is not providing COVID-19 vaccines, please get in touch with one of the pharmacies on the list below who may support booster doses at your facility.
Walgreens
: Tiffany Bartke, PharmD
Email: tiffany.bartke@walgreens.com
Request a clinic:
https://wagsoutreach.com/LTCF-Contact-Us
Health Direct:
  David Simpson, HealthDirect Site Manager
E-mail:  DavidSimpson@hdrxservices.com
Telephone: (800) 861-1903 
Kinney Drugs (partnering with Health Direct): Shannon Miller, PharmD, CDE
E-mail: ShannonMiller@KinneyDrugs.Com
Telephone: (315) 451-2873, ext. 3148
Genoa: Willis (Bill) Breen
E-mail: wibreen@genoahealthcare.com
Telephone: (802) 917-0102
Shaw's Osco Pharmacies: Kathleen Wobby, PharmD, District Pharmacy manager
Email: Kathleen.Wobby@shaws.com
Telephone: (802) 309-4469
Office: (508) 313-4533
CDC also has a list of pharmacies that may provide COVID-19 vaccines either onsite or in a retail location.  You may find this list on the Connecting Long-term Care Settings with Federal Pharmacy Partners website.

Use community clinics and retail pharmacies for mobile residents
If your residents are mobile and can be transported, residents can sign up for the vaccine at a community clinic through the state's portal or through a retail pharmacy.
Transportation 
Mobile patients able to travel to a COVID 19 Vaccine clinic without access to their own transportation can call their local transportation agency.  A list of providers is found on the
Vermont Public Transportation Association (VPTA)
website. The VPTA toll-free number is (833) 387-7200. These trips are free to all Vermonters. Please note that people who live near a fixed bus or transit route will be asked to use these routes whenever the vaccine clinic is also located near a fixed route.

Contact us if you need assistance
If none of these options are will work for your facility, contact the Health Department at ahs.dailcovidinquiries@vermont.gov 
Visitors
Facilities may offer visitation with residents. Check with the facility before planning a visit. Visitors should be screened before entry. Visitors' movements and interactions with people in the facility should be limited. There may be some situations where indoor visitation is limited, but medically necessary personnel and visitors for residents receiving end-of-life care are always allowed inside.
Personal protective equipment and infection control
The Health Department recommends that all health care personnel in long-term care facilities and other congregate care living settings where health care is provided wear face masks, regardless of the presence of COVID-19 in the facility. 
Encounters with asymptomatic or presymptomatic patients with COVID-19 are more likely in the context of moderate (400-799 cases/million) or substantial (800+ cases/million) community transmission. In such instances, the use of universal eye protection reduces the potential for high-risk exposure (and exclusion from work and quarantine recommendations) among providers.
Unvaccinated residents and staff of congregate care settings with exposures and unvaccinated new admissions to nursing homes must complete the full 14-day quarantine period. Testing out of quarantine on or after day 7 is an option for fully vaccinated residents with exposures.
The CDC recommendations for preventing the spread of COVID-19 in long-term care facilities include many of the same strategies these facilities use every day to detect and prevent the spread of other respiratory viruses like influenza.
Monoclonal antibody treatment
Considerations for Monoclonal Antibody Treatment
Providing monoclonal antibody treatment early in congregate care settings can prevent hospitalizations.
Monoclonal antibodies have been found to prevent hospitalization in recently diagnosed COVID-19 patients by 70%.
Monoclonal antibodies are authorized through an Emergency Use Authorization (EUA), meaning they are investigational drugs that have not been approved by the FDA and should not be considered the standard of care for treatment of patients with COVID-19.
If monoclonal antibodies are used, the utilization must be reported by the facility through NHSN or TeleTracking.
Monoclonal antibodies are in limited supply nationally and are allocated to each state for distribution based on utilization and active cases.
Monoclonal antibody treatment may help people who:
have a positive COVID-19 test, and had symptoms for 10 days or less.
are at high risk of getting more serious symptoms.
Individuals are eligible for monoclonal antibody treatment if they:  
are an adult or pediatric patient (at least 12 years of age and weighing at least 88 lbs),
have tested positive for COVID-19,
are experiencing mild or moderate symptoms of COVID-19,
experienced the first symptoms of COVID-19 in the last 10 days, and
are at high risk for having more serious symptoms of COVID-19 and/or going to the hospital (over 65 years old, diabetes, heart disease, obesity, etc.).
How can I order monoclonal antibodies for residents of long-term care facilities?
Please consult with your facility's medical director and then complete this form.
For additional questions, reach out to the Vermont Department of Health at AHS.VDHVTHPP@vermont.gov.
Resources
Antigen testing
For more information on antigen testing see the following resources:
Health Alert Network documents from the Vermont Department of Health
Guidance from the Vermont Department of Health
Guidance and resources from device manufacturers
Testing guidance for CMS-certified nursing homes
Routine Testing of Staff
Routine staff testing is required for CMS-certified nursing homes. CMS established minimum testing frequencies based on county positivity rate, but these may be supplemented by recommendations from the Department of Health or the Department of Disabilities, Aging and Independent Living.
Minimum Routine Testing Frequency by Community COVID-19 Activity Level
 

| Community COVID-19 Activity | County Positivity Rate | Minimum testing frequency |
| --- | --- | --- |
| Low | <5% | Once a month |
| Medium | 5% - 10% | Once a week |
| High | >10% | Twice a week |
For more information, see CMS Memo QSO-20-38-NH: Long-Term Care Facility Testing Requirements.
Testing guidance for other long term care facilities
Long Term Care Guidance for Operations During COVID-19 Health Emergency (updated July 2, 2021), from the Department of Disabilities, Aging and Independent Living, in consultation with the Department of Health, identifies phases of operation that are based on the community burden of COVID-19 and cases within a facility. Each phase outlines visitation guidance, congregate activity limits, and testing requirements that apply to all long-term care residential facilities (nursing homes, residential care homes, assisted living residences, and therapeutic community residences).
The phases correspond to county positivity rates. Facilities should monitor their county positivity rate at least every other week. Community incidence should also be considered when making decisions about proactive testing, visitation, and activities within a facility.
Use the CDC's Antigen Test Interpretation flow chart which has the most current guidance to help you interpret the antigen test.
Find more guidance on antigen testing from the CDC.