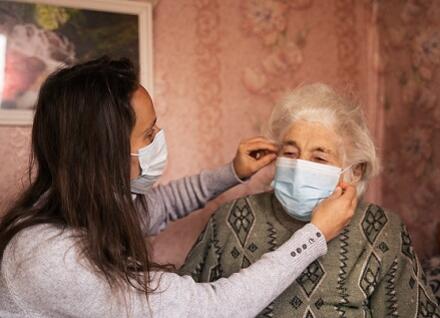 The Health Department works closely with the Department of Disabilities, Aging and Independent Living and long-term care facilities to help them prepare for cases of COVID-19. Other types of group living settings, also called congregate care settings, can follow strategies to detect and prevent the spread of respiratory viruses like the new coronavirus.
 
WHAT WE ARE DOING
Outreach
The Health Department has contacted all long-term care facilities, nursing homes, assisted living facilities, and senior housing facilities proactively to review strategies to prevent COVID-19 infection and develop plans to respond immediately if an infection is identified. We complete an in-depth assessment by phone and provide guidance about personal protective equipment and other infection prevention and control recommendations. We continue to stay in touch for any technical assistance needs and additional questions.
Rapid Response
If a case of COVID-19 is associated with a long​ term care facility, a rapid response team, including staff from Health Department as well as other State partners, is quickly activated. They contact the facility to provide recommendations and infection control support. The team begins an investigation ­to determine the source of the infection and how it may be spreading. They ask questions and collect information to help identify anyone the patient had close contact with. The team communicates with facility staff to ensure containment measures are being implemented, which will differ depending on the type of setting.
Universal Testing at Facilities
Vermont is taking additional measures to slow the spread of COVID-19 in certain types of group living facilities, including nursing homes, assisted living residences, residential care homes, therapeutic community residences, residential treatment centers, correctional facilities, state psychiatric care facilities, and homeless shelters.
If a staff member or resident tests positive for COVID-19, facility-wide testing of staff and residents might be recommended in consultation with the Health Department. If facility-wide testing is recommended, the Health Department provides technical assistance to make sure that the facility is connected with testing resources and provides guidance on when additional rounds of testing should take place. The Health Department also works closely with the facility to provide infection control guidance and resources.
Residents and staff of group living facilities (for example, long-term care facilities or correctional facilities) and new admissions to nursing homes, assisted living residences and residential care homes must complete the full 14-day quarantine.
Vaccines
Active Outbreaks in Long Term Care Facilities - January 21, 2021
These counts are cumulative counts of all staff and resident cases that occurred in long-term care facilities during their outbreak as of the date above; they do not reflect counts of people with an active COVID-19 infection.

There is a row for every facility with an active outbreak. In order to protect people's privacy, a facility name or case count may not be shown. We follow these rules:
When a facility has less than 25 residents and staff, the name of the facility is not shown. It is listed as Long Term Care Facility A, B, C, for example, instead.
When the case counts are less than 6, or when more than 75% of the facility is affected, case counts are not shown.
This information is updated on Tuesdays and Fridays.
| Facility name | Cumulative covid-19 cases |
| --- | --- |
| St. Albans Healthcare & Rehab Center | 89 |
| Elderwood at Burlington | 127 |
| Converse Home Assisted Living | 17 |
| Our Lady of Providence Residential Care Community | 49 |
| Craftsbury Community Care Center | 29 |
| Holton Home | 12 |
| The Residence at Shelburne Bay | 43 |
| Davis Home | 6 |
| Holiday House | 22 |
| Vermont Veterans Home | 8 |
| Valley Terrace | 6 |
| Village at Cedar Hill | 18 |
| Second Spring North | Not shown |
| Meadowview Recovery Residence | Not shown |
| Long Term Care Facility D | 6 |
| Harbor Village | 8 |
| Lakeview Community Care Home | 8 |
Federal Vaccine Pharmacy Partnerships
Vermont is participating in the Pharmacy Partnership for Long-term Care (LTC) Program coordinated by CDC. Vermont's Pharmacy Partners are CVS, Walgreens, and HealthDirect/Kinney Drugs. These pharmacies will provide on-site vaccination clinics for residents and staff of long-term care facilities (LTCFs) and administer the Pfizer-BioNTech vaccine. More information on the Pfizer-BioNTech Vaccine can be found in the Emergency Use Authorization (EUA). The CDC has defined LTCF's as skilled nursing facilities, assisted living facilities, continuing care residential communities, residential care communities/adult family homes, including HUD 202 low-income senior housing, intermediate care facilities for individuals with developmental disabilities, or state-run veterans' homes. Enrollment with this program is closed.
COVID-19 vaccination started at skilled nursing facilities on December 21. Vaccination for all other LTCFs enrolled in the federal program is scheduled to begin mid to late January, but is dependent on vaccine allocations.
The pharmacy will:
Schedule and coordinate on-site clinics directly with each facility. Pharmacies will likely take schedule three clinics to administer both vaccine doses and vaccinate new residents and staff.
Order vaccines and associated supplies (e.g., syringes, needles, personal protective equipment).
Ensure cold chain management for vaccine.
Provide on-site administration of vaccine.
Adhere to all applicable CMS requirements for COVID-19 testing for LTCF staff.
These clinics are free to both staff and residents. Pharmacy partners may ask for insurance information to seek reimbursement for the administration of the vaccine, but if someone is uninsured vaccine will still be supplied at no charge.
After the initial phase of vaccinations, the facility can choose to continue working with the pharmacy that provided its on-site clinics or work with a pharmacy provider of its choice. Facilities that are ineligible for this program, or that missed the window for enrollment, are encouraged to work with existing or local pharmacies to arrange on-site clinics if desired.
If you are an enrolled facility and have questions about these clinics, please reach out to your pharmacy partner.
CVS
HealthDirect/Kinney
Walgreens
Visitors
Facilities may offer visitation with residents. Check with the facility before planning a visit. Visitors should be screened before entry. Visitors' movements and interactions with people in the facility should be limited. Medically necessary personnel and visitors for residents receiving end-of-life care are allowed inside. 
Personal protective equipment and infection control
The Health Department recommends that all health care personnel in long-term care facilities and other congregate care living settings where health care is provided wear face masks, regardless of the presence of COVID-19 in the facility. 
Residents and staff of congregate care settings and new admissions to nursing homes, assisted living residences, and residential care homes must complete the full 14-day quarantine period. Testing out of quarantine after day 7 is not an option unless alternate guidance is provided by the Health Department.
The CDC recommendations for preventing the spread of COVID-19 in long-term care facilities include many of the same strategies these facilities use every day to detect and prevent the spread of other respiratory viruses like influenza.