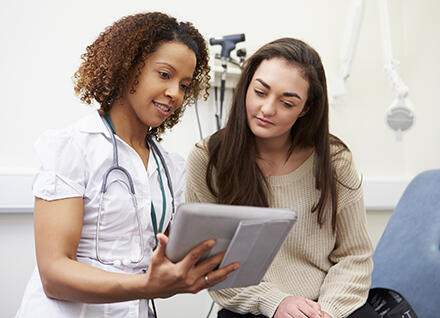 As children move away from childhood toward adolescence and young adulthood, the office space that once was thought of as comforting and fun may seem geared towards little kids. And, as children grow older, they often become more involved in their health care. They begin voicing their own concerns and having real questions about their health, development, relationships, feelings, healthy behaviors or risk taking behaviors, and issues related to privacy and confidentiality. Having a safe and welcoming place to talk about their needs and feel like they fit is important. You can help reduce the barriers that may prevent youth from accessing health services by creating an adolescent-friendly practice.
Adolescent Well-Care Visits in Vermont
As part of Vermont's Title V efforts, the Health Department aims to increase the number of children and youth ages 12-21 who have an annual well-care visit in their medical home. We follow national health promotion and prevention guidelines known as Bright Futures. One example is the periodicity schedule, determined by the Health Department's Early and Periodic Screening, Diagnostic and Treatment Services (EPSDT). The Bright Futures standards recommend annual well-care visits for adolescents. This measure is also one of the Core Measure Set payment measures being used by accountable care organizations (ACO) participating in Vermont's ACO pilot program through the Vermont Health Care Innovation Project's Shared Saving Program. Within the Core Measure Set, payment measures are those for which ACO performance potentially impacts the amount of shared savings that the ACO may retain.
The Center for Medicaid & CHIP Services has created a strategy guide called Paving the Road to Good Health: Strategies for increasing Medicaid Adolescent Well-Care Visits in order to support states and their partners in increasing adolescent well-care visit rates.  The Health Department is working with many community partners, including medical providers and schools, on these efforts. Providers can support these efforts by ensuring they are offering youth access to health care in an adolescent-friendly environment.     
Adolescent Young Adult Health Collaborative Improvement and Innovation Network and Vermont Youth Health Advisory Council 
Vermont was one of five states chosen to participate with key partners in the first Adolescent and Young Adult Health Collaborative Improvement and Innovation Network (AYAH-CoIIN). This CoIIN focuses on discovering, identifying, and implementing evidence-informed strategies to increase adolescents' and young adults' access to preventive health care visits and improving the quality of those visits. As part of this work, the Vermont YHAC has been formed with an aim to voice the views of young adults in accessing health care in Vermont. Part of YHAC's initial work is supporting five medical practices to optimize the quality of adolescent well-care visits and helping practices become more youth-friendly. For more information about the CoIIN and about Adolescent and Young Adult Health CoIIN, visit the Engaging Youth webpage. 
Resources for Creating an Adolescent-Friendly Practice
Association of Maternal & Child Health Programs
National Adolescent and Young Adult Health Information Center
Adolescent Health Initiative – University of Michigan Health System
Office of Adolescent Health
Advocates for Youth
Vermont Child Health Improvement Program – Youth Health Improvement Initiative
Centers for Disease Control and Prevention
American Academy of Pediatrics