Programs and services that help communities become as healthy and involved as they can be are a key part of alcohol and drug use prevention in Vermont. Bringing communities together is a job for many people from all walks of life, including law enforcement, the news media, parents, students, community coalitions, and health care providers. Alcohol and drug prevention programs help support communities to grow in wellness and health.
Community Prevention Grants
The goal of the community-based grants program is to reduce health care costs by supporting healthy behaviors in communities, helping Vermonters to lead healthy lives.
Community-based prevention grants support strategies to:
Reduce high-risk drinking among Vermonters age 18 to 25
Reduce underage drinking among Vermonters age 12 to 20
Reduce marijuana use among Vermonters age 12 to 17
Regional Prevention Partnerships Grants
The Regional Prevention Partnerships grants are a customized regional response to reduce alcohol and drug use among adolescents, teens and young adults.
This is a federally funded program that builds on Vermont's experience with the strategic prevention framework.
The strategic prevention framework is a way of guiding prevention programs to make sure they stay on track to make a positive change in meeting prevention program goals. The ultimate goal is to have an effective regional prevention network that will collectively cover the entire state, working with centralized support and services.
Regional Prevention Partnerships will work to:
Increase state, regional and community capacity to prevent underage and binge drinking, prescription drug misuse and cannabis use through a focused regional approach
Reduce underage and binge drinking among Vermonters aged 12 to 20
Reduce prescription drug misuse and abuse among Vermonters aged 12 to 25
Reduce cannabis use among Vermonters aged 12 to 25
Regional Prevention Consultant System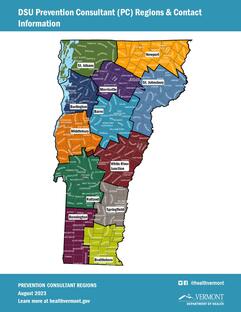 Vermonters across the state have access to one of 12 regional
prevention consultants
.
These health professionals are alcohol and drug use prevention experts working in the 12 local health offices in Vermont. They support community efforts to lead and carry out prevention efforts.
Prevention consultants are there to help with: 
Community organizing
Program planning & consultation
Presentations & training
Community grants information & guidance
Information & referral