Opioid Misuse & Dependence in Vermont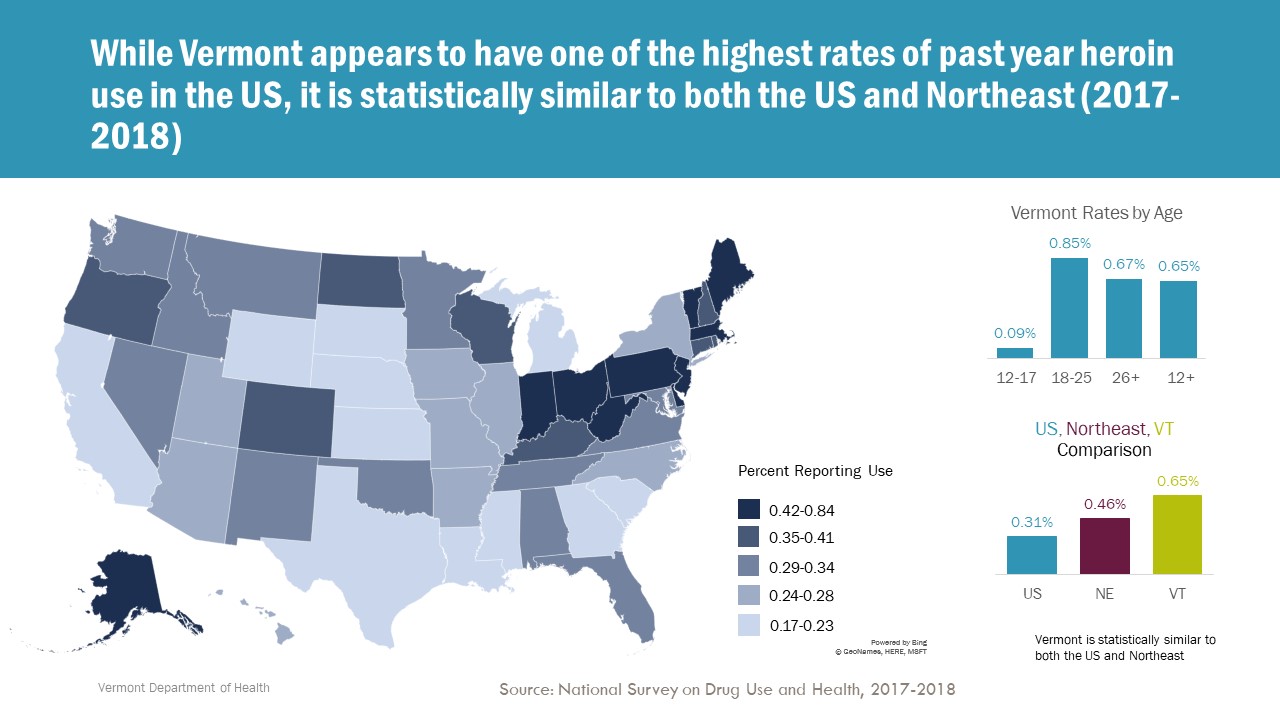 The percentage of Vermonters reporting prescription pain reliever misuse is going down significantly in Vermont, particularly for 18-25 year olds.
While past year heroin use prevalence remains under 1% for people 12 and older (as it does for all states), Vermonters in the 18-25 year-old age group have among the highest use rates in the country. A report from the Substance Abuse & Mental Health Services Administration found that in any given year almost 80% of new heroin users in America had misused prescription pain relievers.
The general pattern for Vermont is similar to the national trend: prescription drug misuse has slowly gone down, access to treatment for those dependent on opioids has widened, and there has been an increase in disease and death associated with heroin use.
Vermont Response to Opioid Addiction
Public Health Strategies to Reduce Opioid Use Disorders 2017-2020
Public Health Strategies to Reduce Opioid Use Disorders 2019-2021
Treatment is Available
If you or someone you know needs help with marijuana – treatment is available! Treatment is effective and people can recover.
For free and confidential alcohol and drug support and referral services, call 802-565-LINK (5465) or visit VTHelplink.org.
Talking With Your Kids
It's never too early to start a conversation with your kids about drugs and alcohol. When young people have supportive adults in their lives, they are much less likely to use drugs. Open, honest conversations are the best way to influence their behavior.
Here are some tips!
Start the conversation early to get ahead of the conversation.
Be clear, direct, and specific.
Have an ongoing, two-way dialogue.
Focus on their goals and explain how drugs can get in the way.
Stay positive.
For more tips visit ParentUpVT.org.
For more information visit:
Data and Related Resources
Hub and Spoke Evaluation & Brief
Data and Reports: Information on opioid and other drug misuse, abuse, and dependence in Vermont.
How We Are Doing: Learn more about goals and outcomes being tracked in Vermont.
Naloxone Information
See Division of Emergency Preparedness & Emergency Medical Services Statewide Incident Reporting Network for Emergency Medical Services use of Naloxone Data Briefs.
See Division of Emergency Preparedness & Emergency Medical Services Education for Emergency Medical Services Naloxone Protocol Education.
Information from National Experts