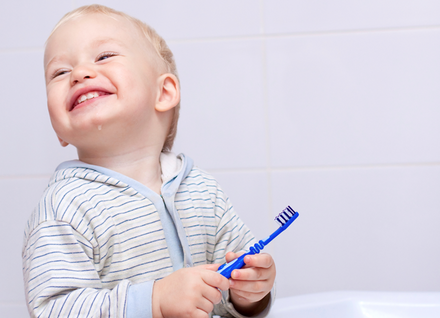 Pediatricians and general practice physicians have a tremendous impact on the oral health of young children. According to the American Academy of Pediatrics' Bright Futures: Guidelines for Health Supervision of Infants, Children, and Adolescents, 4th Edition, tooth decay is the most common disease among children. Few young children receive routine preventive dental care yet most children regularly see their primary care provider. 

The Bright Futures periodicity schedule includes oral health services and resources for primary care providers to be more involved in pediatric oral health care, which is now standard practice. Fluoride varnish has been proven to be a safe and effective method for preventing tooth decay in children. From the First Tooth promotes the oral health of infants, toddlers and preschool children. The program provides a comprehensive training for all office staff, covering topics from office flow, to billing, and post-visit follow up.

The University of Vermont's Office of Primary Care and Area Health Education Centers (AHEC) coordinates From the First Tooth trainings for primary care providers throughout Vermont, offering first time trainings as well as refresher courses at no charge to the practice. This program helps primary care providers integrate the following practices as standard of care for young pediatric patients:
Assess the oral health of young children
Apply fluoride varnish to help prevent tooth decay
Educate parents and caregivers about pediatric oral health
Make dental referrals
Schedule a Training
To schedule a training for your office, contact either:
Elizabeth Cote, Director
UVM Office of Primary Care and AHEC Program
[email protected]
802-656-0030

or
Laurie McLean, Program Coordinator and Training Scheduler
UVM Office of Primary Care and AHEC Program
[email protected]
802-656-2888
What providers are saying
"From the First Tooth training brought oral health to the forefront of our patient care." –MD, Evergreen Family Health
"New skills learned from fluoride varnish in primary care medical settings training will improve the health of our patients." –MD, Brandon
More Information
Reimbursement for Primary Care Providers
Medicaid 
Medicaid reimburses for the cost of application of topical fluoride varnish by a physician or other qualified health care professionals
Code: 99188
Medicaid Reimbursement Fee:  $18.00
Commercial Insurers
According to the Affordable Care Act, insurers should be reimbursing  the cost of fluoride varnish application for children from the age of first tooth eruption through age 5 (not including age 6).
Code: 99188
Maintenance of Certification
Physicians preparing for recertification of the Maintenance of Certification Part IV can select pediatric oral health as the focus area for their office-based quality improvement project.

From the First Tooth is designed to help physicians demonstrate to patients, colleagues and health care organizations ongoing professional development that result in quality patient care. Maintenance of Certification consists of four primary parts: professional standing, lifelong learning/self-assessment, cognitive expertise, and performance in practice.
Learn More
Fluoride Varnish Videos for Providers