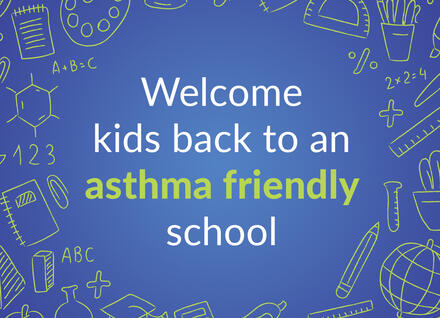 Becoming an asthma-friendly school is simple to do and benefits all students and staff—especially those who have been diagnosed with asthma. Roughly 8,200 (7%) of Vermont's children has asthma, and Vermont is among the top five states in the country in asthma rates. That means the potential for lots of missed school and workdays, and even asthma-related emergencies.
Learn more about COVID-19-specific recommendations for schools
WHY BECOME AN ASTHMA-FRIENDLY SCHOOL?
Today, amidst the COVID-19 global pandemic, it has never been more important for schools to be as asthma-friendly as possible, to help students and staff members with asthma avoid triggers, manage their symptoms, and successfully learn and thrive.
Many asthma-friendly strategies are simple to implement and low-cost, which may very well also help schools satisfy other policy requirements and best practices, and reflect steps already taken to address COVID-19 challenges.
HOW TO BECOME AN ASTHMA-FRIENDLY SCHOOL
Below are some proven practices, protocols, programs, and policies that can help to create asthma-friendly school environments. The following should be adopted by all schools and Local Education Agencies (LEAs):
TIER 1 - These are the most important steps for your school and any 3 of the following may qualify a school for recognition as a gold level asthma friendly school.
TIER 2 - These steps bolster the best practices and policies in Tier 1 and any 3 of the following may qualify a school for recognition as a silver level asthma friendly school.
TIER 3 - Together, these steps act as a strong foundation for asthma-friendly policies & programs; and any 4 of the following may qualify a school for recognition as a bronze level asthma friendly school.
Be ReCOGNIZED AS AN ASTHMA-FRIENDLY SCHOOL
Good news! Implementing these practices, in addition to other key steps, also make you eligible to be recognized as an asthma-friendly school, which recognizes schools at bronze, silver and gold levels that demonstrate a commitment to asthma-friendly strategies and practices.
ASTHMA & COVID-19
Individuals with moderate to severe asthma may be at a higher risk of developing severe illness from COVID-19. Since COVID-19 can affect the respiratory tract, being exposed to the virus may lead to an asthma attack, and possibly acute respiratory disease and pneumonia.
» Get the most up-to-date information on Vermont's response and guidance surrounding COVID-19.
» Learn more about the link between COVID-19 and asthma via the CDC.
 
IMPORTANT COVID-19 AND ASTHMA CONSIDERATIONS FOR SCHOOLS
Do students and staff members with asthma need to wear masks?
While it is a requirement to wear a mask in Vermont, if an individual has breathing difficulties or another medical or behavioral reason making it difficult to wear a mask, then this requirement may be waived. These decisions should be made in partnership with a health care provider or school nurse.
Which products are recommended to be used for cleaning schools?
Since many cleaning products and chemicals can trigger asthma symptoms and attacks, schools are strongly encouraged to use cleaning products that are fragrance-free, non-toxic, and certified by a third-party like Green Seal or EPA's Safer Choice.
In fact, under Vermont's Act 68 of 2012, commercial vendors are required to only sell third-party certified, environmentally preferable cleaning products to Vermont schools.
Schools and LEAs should also prohibit staff members, teachers, and parents from bringing in cleaning products.
How can schools use disinfectants properly to control COVID-19, knowing that some students and staff members have asthma?
People with asthma may find that their symptoms are made worse when exposed to smells and fumes from cleaning chemicals and disinfectants. The United States Environmental Protection Agency (EPA) encourages individuals to take the following safeguards when using cleaning products in any setting:
Select products with safer ingredients, like ethanol, isopropanol (isopropyl alcohol), hydrogen peroxide, L-Lactic acid, or citric acid
Always read labels and only use products as directed
Use products that could reduce inhalation exposure (e.g. damp paper towels or wipes, rather than sprays) when disinfecting surfaces
Wash hands after handling any cleaning product or after coming into contact with a surface that may be contaminated with COVID-19
What about indoor air quality systems and preventative maintenance procedures?
Did your school make HVAC improvements to increase ventilation, improve filtration and/or address humidity? Keeping these air quality systems and preventative maintenance procedures up-to-date and implemented properly can help support good air quality and COVID-19 prevention efforts.
The following steps are recommended with regard to ventilation and HVAC:
Ensure that the school ventilation system is properly cleaned and meets the operating standards recommended by the manufacturer.
Operate HVAC systems in occupied mode for at least a week prior to reopening while assuring that the outdoor air dampers are open.
Encourage staff members to provide additional outside time, as well as open windows when it is safe to do so (e.g., when there is no risk of falling, noise, or triggering an asthma attack).
Ensure ventilation systems work properly and increase circulation of outdoor air.
» Read more about HVAC and ventilation during COVID-19 from ASHRAE Epidemic Taskforce Schools & Universities
» Review Vermont's guidance for safely reopening schools