For Immediate Release: October 31, 2023

Media Contacts: 

Ben Truman │ Vermont Department of Health
802-316-2117 / 802-863-7281
[email protected]
Nellie Marvel │ Cannabis Control Board
[email protected] 
 
Free Lockable Storage Bags Will Help Keep Children from Accessing Cannabis Products
Accidental ingestion of substances among children in Vermont is on the rise
BURLINGTON, VT - To help reduce the risk of children accessing cannabis products and other substances, the Department of Health and Cannabis Control Board have launched a pilot project to offer free, lockable storage bags at select cannabis stores in Vermont.
The Healthy at Home bags can be used by anyone to store cannabis products safely, but they are especially important for people with young children in the home to prevent them from accidentally eating edibles and other products. 
A new Health Department report shows a rise in accidental ingestion of substances among children since 2018, based on emergency department data. Cannabis was among the three most common substances involved in unintentional, nonfatal overdoses in 2022 for children under age 9. Other top substances of concern in Vermont's youngest children include prescription and over-the-counter medicine and stimulants.
"It's critical that we safely store all potentially harmful substances, but especially edibles that could appeal to children, like gummies or chocolates," said Health Commissioner Mark Levine, MD. "These lockable bags make it harder for children to access and consume these products, potentially preventing a trip to the emergency room."
Cannabis products are required to be in child-resistant packaging when they are sold. The Cannabis Control Board recommends that products stay in their original packaging even after the consumer brings them home, but both the Board and the Health Department support using extra layers of security.
"As a Board our goal is to develop a regulatory program that aims to prevent cannabis use among youth and educates consumers about the importance of safe storage," said Cannabis Control Board Commissioner Julie Hulburd. "Alongside other fundamental safety measures, these locking bags provide an excellent solution for enhancing security when storing potentially harmful substances at home, keeping them out of reach of children and pets."
The pilot project includes distribution of 3,000 lockable storage bags to stores identified by the Cannabis Control Board. No purchase is necessary to receive a bag. Each bag includes a pamphlet that directs people to a satisfaction survey. The information collected will help guide decisions about expansion of the program to more sites.
The free storage bags will be available at:
⦁    Capital Cannabis Company – Berlin 
⦁    Vermont Bud Barn – Brattleboro
⦁    Euphoria Cannabis Products – Burlington
⦁    The Hight Country – Derby
⦁    Magic Mann – Essex
⦁    FLORA – Middlebury
⦁    Mountain Girl Cannabis – Rutland
⦁    MothaPlant – St. Albans
⦁    Northeast Kannabis – St. Johnsbury
⦁    The Tea House – White River Junction
Even without a lockable bag, you can take steps to keep your home healthy by keeping potentially harmful substances out of sight and out of reach for children and pets. Place harmful substances on high shelves, behind closed doors, install child-proof latches, lock medicine cabinet. For more information visit HealthVermont.gov/HealthyAtHome.
Get more tips on safe storage and disposal of prescription and over-the-counter medications by visiting HealthVermont.gov/DoYourPart.
If you suspect poisoning, dial 9-1-1 or call the Poison Control Center immediately at 1-800-222-1222.
# # #
Image of lockable bag:

Courtesy Vermont Department of Health
Image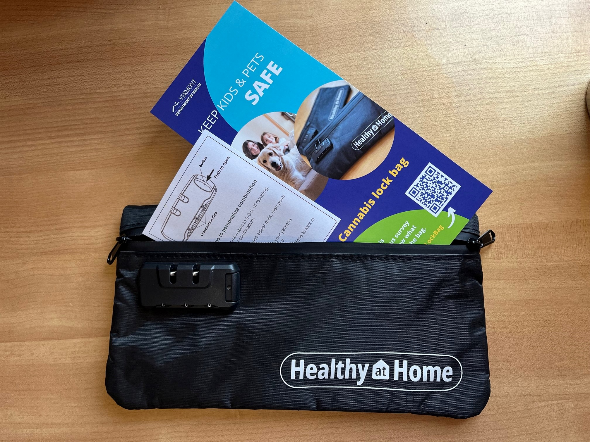 About the Department of Health
We have been the state's public health agency for more than 130 years, working every day to protect and promote the health of Vermonters.
Visit healthvermont.gov ─ Join us @healthvermont on Facebook, X, Instagram, YouTube