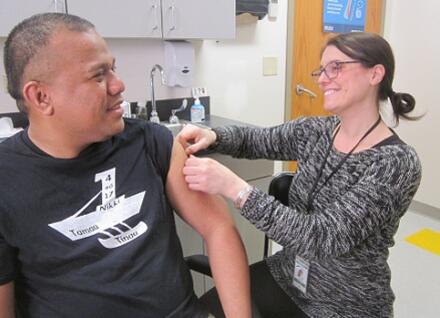 Our Immunization Public Health Nurses work closely with local families and medical practices to increase immunization rates in Lamoille, Caledonia, Orleans and Washington Counties for infants, children, adolescents and adults. We offer immunization at no charge for people who are under 65 years old and unisured or a patient of a medical practice that cannot receive vaccine from the Vermont Vaccines for Children & Adults program. We are here to answer your questions.


Immunization Clinics
Morrisville Local Health Office
63 Professional Drive
3:00 p.m. - 4:15 p.m.
Third Monday of each month
Call us for an appointment, or to schedule a time outside of these hours.
Contact Us
Joyce, Public Health Nurse
Phone: 802-888-1352
For Families
Child Care and School-Related
We can provide education to school professionals on vaccines, immunization exemptions, and catch-up schedules.  
Health Care Provider Training and Support
Immunization & Health Care Professionals
We help local medical practices increase their immunization rates by using a quality improvement program known as AFIX. We discuss the practice's immunization rates, facilitate review of evidence-based strategies, and support development of plans to increase vaccination coverage in our communities.
The Vermont Immunization Registry is a confidential, computerized database that contains a record of immunization doses that have been administered by participating providers. We offer training on the IMR to local providers and healthcare staff to support statewide immunization records. These records are used by school professionals, as well as health care professionals.
Local Highlights
Morrisville Family Health staff received training on the Immunization Registry and used the CDC-based quality improvement program to reduce missed opportunities to get people updated on vaccines.  If your practice is interested in improving your vaccine rates, contact us today at 802-888-7447 and we can provide training.