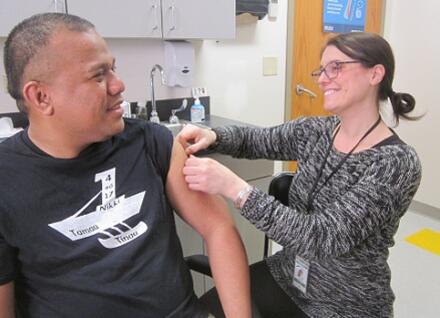 We work closely with families and medical practices to increase the number of people in Addison County who receive all their recommended immunizations.
Immunization Clinics
The Middlebury Local Health Office has a monthly immunization clinic at no charge for people who are under 65 years old and uninsured or a patient of a medical practice that cannot receive vaccine from the Vermont Vaccines for Children & Adults program.
Clinic Hours
Middlebury Local Health Office
156 South Village Green, Suite 102
1:00 p.m. – 4:00 p.m.
Second Thursday of each month
Call us for an appointment, or to schedule a time outside of these hours.
Contact Us
Holly, Public Health Nurse
Phone: 802-388-5746
Supporting Families
Child Care and School Information
Working with Health Care Providers
Immunization & Health Care Professionals
We meet with local practices to support increased on-time vaccination. Call to schedule a meeting to review immunization coverage rates and consider steps that will strengthen practice efforts. Learn more about Immunization Quailty Improvment (IQI)
Local Highlights
In April 2018, these pediatric practices were recognized by the Vermont Immunization Program for meeting the Healthy People 2020 goal of high childhood immunization coverage:
UVM Health Network - Porter Pediatric Primary Care
Rainbow Pediatrics
 
Learn More
Immunizations & Infectious Disease in Vermont