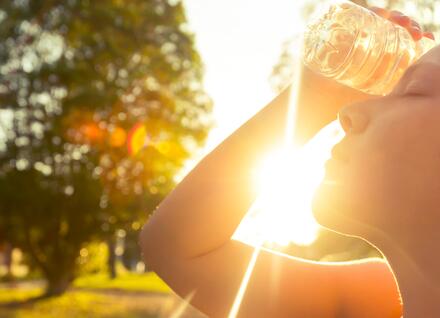 Heat can cause serious illness. Heat illnesses can be deadly. On very hot days, sometimes your body temperature control systems can't keep up and your body temperature can get dangerously high. This makes you at greater risk for serious heat illnesses, including heat exhaustion and heat stroke. Heat stroke is a life-threatening emergency. Dial 9-1-1 or get immediate medical help if you are concerned about your health or someone else's health when it's hot outside.
Know the signs and symptoms of heat illnesses
Heat Safety Tips in Arabic | Burmese | Chinese | English | French | Kirundi | Nepali | Somali | Spanish
Heat Safety Tips: How to Stay Safe When It's Hot Outside
Download a printable version of the Heat Safety Tips fact sheet
NEVER leave children, people with disabilities or pets inside a parked vehicle when it's hot. The sun can turn a vehicle into an oven within minutes, even if it doesn't feel hot outside.
STAY COOL
Stay in the shade, in air-conditioning if you can, or in cool places such as basements.
Wear lightweight, light-colored, loose-fitting clothing.
Take cool showers.
Use fans, but don't rely on them as the only way to stay cool.
Go to public buildings that are air-conditioned.
Sleep without sheets.
Avoid hot drinks and meals.
STAY HYDRATED
Drink more water than usual, especially if you're exercising or active outdoors.
Be proactive, don't wait until you are thirsty to drink water.
Don't drink alcoholic or caffeineated beverages.
STAY INFORMED
LISTEN TO YOUR BODY
Take it easy when it's hot.
Reduce outdoor work and exercise and limit it to the cooler parts of the day.
Ask for help if you feel sick.
Stop what you are doing if you feel faint or weak.
Be more cautious if you have a chronic health condition.
DON'T BE A STRANGER
Check on your loved ones and neighbors, especially if they are elderly or have chronic health conditions.
Make sure they are drinking enough water and are staying cool.
Remind them to take heat seriously
COOL your home
Draw light-colored shades to keep out the sun—dark-colored shades can be less effective.
Close windows during the day when it is hotter outside than inside.
Open windows at night when it's cooler outside than inside.
Use fans to blow in cooler outside air or vent out warmer inside air.
Limit use of the stove, oven and other heat-generating appliances.
Everyone is at risk for heat illnesses.
Heat illnesses are a real danger, even here in our northern climate. Vermonters go to the emergency room for heat illnesses just as often as people in Maryland. Being young does not protect you from heat illness. In fact, Vermonters between the ages of 15 and 34 have a greater risk of going to the emergency room for a heat-related reason compared to adults aged 35 to 65.
Some people are more vulnerable to heat illnesses.
In general, risk for heat illnesses is greater for people with:
More exposure to hot conditions – especially outdoor workers and hobbyists, urban residents and homeless people
More sensitivity to heat exposure – anyone not accustomed to hot weather, older adults and young children, people overweight or with a chronic medical condition (e.g. cardiovascular disease, Alzheimer's disease and diabetes), and people using recreational drugs, alcohol or some prescription medications
Limited resources – especially people who live alone, have limited transportation options, have no air conditioning or can't afford to run their air conditioner
People who feel unwell or faint in hot weather are also vulnerable to serious or deadly falls.
People with chronic conditions may not show typical signs of heat illness, but rather worsened symptoms of their condition. If you or someone you know has a potentially dangerous chronic condition and begins to feel sick during a hot day, pay very close attention. Get immediate medical help if you have concerns about a person's condition.
Climate change will increase the number of dangerously hot days.
Vermonters are at greater risk for serious heat-related illnesses, and even death, when the statewide average temperature reaches 87°F or hotter. Since 2000, Vermont has had an average of seven hot days per year when the temperature reached 87°F or hotter.
Climate models from the Vermont State Climate Office predict 15 to 20 hot days per year by mid-century, and 20 to 34 hot days per year by the end of the century. As the climate warms and there are more hot days, more heat illnesses and deaths will occur. Some of these impacts can be avoided by taking actions to prepare and adapt.
Learn more about hot weather impacts and adaptation strategies
What does this graph tell me?
Visits to the emergency room or urgent care facilities for heat-related illnesses are most common in June, July and August when Vermont temperatures are often in the 80s and occasionally into the 90s.
However, heat-related illnesses also occur in the spring and fall. We are more sensitive to the heat in the spring while our bodies are adjusting to warmer temperatures. This makes heat-related illnesses possible even in the 70s. In September or even into October, heat-related illnesses can occur on unseasonably hot days.
Heat-related illnesses are the health effects people can experience from the heat such as feeling overheated, heat cramps, dehydration, heat exhaustion or heat stroke.
What do we know about the effects of heat in Vermont?
We know that Vermonters are at a greater risk for heat-related illness, and even death, when temperatures reach the mid-to-upper 80s and higher. Between 1981 and 2010, Vermont had an average of six days per year when the statewide average temperature reached 87°F or hotter.
Climate models from the Vermont State Climate Office predict an average of 15 to 20 days per year reaching 87°F or hotter by mid-century, and 20 to 34 days per year doing so by the end of the century.
What should I do to stay safe in the heat?
What information is used in this this graph?
In this graph, heat-related illnesses are defined as a visit to the emergency room or urgent care facility for heat-related issues such as feeling overheated, heat cramps, dehydration, heat exhaustion or heat stroke.
This graph was made using recent emergency room (and some urgent care) visits from hospitals across the state. The Health Department uses information like the date of the visit, reason for the visit, and diagnosis to help identify outbreaks or other possible trends that might be affecting public health.
What do the bars and lines mean?
The graph shows the weekly percentage of emergency room visits for heat-related illness. The blue bars show the percentage of visits due to heat-related illness in the current year. The purple line (historic average) shows the average percentage of visits due to heat at that time of year (based on data from 2016 to 2018). The yellow-green line (historic maximum) represents the highest percentage of heat-related illness visits that has been recorded at that time of year.
What else should I know about this graph?
It is important to note that the average percentage of heat-related visits displayed here is based on only three years of data, from 2016 to 2018 (purple line – historic average). In 2018, there was a record-breaking heat wave, which is why you see a spike in average percentage of heat-related visits in the month of July. As more years of data are added, this average will become more representative of what we can typically expect to see at that time of year.
Protect yourself and your workforce when working outside.
Prepare your home and other buildings for hot weather.
Modify buildings and ventilation systems to increase cool air flow while venting out hot air.
Seal air leaks and properly insulate to help keep buildings cool in summer and retain heat in winter.
Plant trees, shrubs and vines around buildings to maximize summer shade and cooling breezes.
Replace incandescent light bulbs with LED bulbs that stay much cooler and save energy.
Put in air conditioners, heat pumps or similar cooling devices.
Use light-colored materials to reflect heat when you replace your roof.
Choose energy-efficient options when replacing siding, doors and windows.
Learn more about ways to keep your home cool at Efficiency Vermont.
Protect your community from health impacts on hot days.
Create a community response plan that identifies protective actions to take on hot days.
Open cooling centers or other air-conditioned, publicly accessible places for those without air conditioning and for the homeless.
Mobilize local care networks to check on people at at high risk for heat illness.
Limit or cancel outdoor job, school or extracurricular activities, including athletic practices, games and other outdoor events.
Plant trees and shrubs, and reduce paved surfaces to keep urbanized areas cooler.
Promote energy-efficient building design, including use of cool roofs and pavements.
Learn more about heat impacts in Vermont and how to stay safe on hot days.
| Resource | Description |
| --- | --- |
| | Read about what to do if someone is experiencing heat illness symptoms. |
| Vermont Heat Vulnerability Index Maps | The Index draws together 17 different measures of vulnerability in six different themes: population, socioeconomic, health, environmental, climate, and heat illness. These measures are combined to measure the overall vulnerability of Vermont towns to heat-related events. |
| Extreme Heat and Health | Learn more from the Centers of Disease Control and Prevention about how to stay cool, stay hydrated, and stay informed. |
| Climate Change and Heat Impacts on Health | This fact sheet from the Centers of Disease Control and Prevention talks about actions we can take to prepare for climate change and extreme heat events. |
| National Integrated Heat Health Information System (NIHHIS) Toolkit | The NIHHIS is an integrated system and an interagency partnership with the goal to reduce morbidity and mortality due to extreme heat. |
| Heat Impacts on Health in Vermont | This document details the association of summer temperatures with heat-related illness and mortality in Vermont. |
| Heat Vulnerability in Vermont | This report provides a description of and rationale for the methods used to produce the Vermont Heat Vulnerability Index. |
| Vermont Heat Vulnerability Index | This is a two-page summary description of the Vermont Heat Vulnerability Index. |
| Heat Safety Tips | This fact sheet has steps you can take to keep yourself and your friends and family safe from heat. |
| Climate Change and Hot Weather | This fact sheet describes the impacts climate change will have on the number of hot days in Vermont, what health impacts heat has on Vermonters, and adaptation strategies for individuals, communities, businesses, and other organizations. |
| Illness and Death Due to Hot and Cold Weather | A data brief that illustrates the burden of heat-related versus cold-related illness and death in general, as well as in terms of whether or not the illness or death occurred at home. |