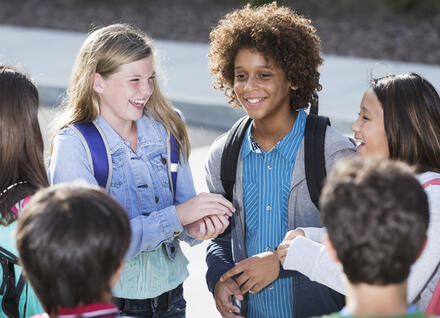 It is important to keep children in school whenever possible. We encourage families and schools to have rapid testing supplies on hand should children or staff develop symptoms. Please see the information below on handling COVID-19 in schools.
FOR SCHOOL ADMINISTRATORS AND SCHOOL NURSES
Schools should revisit their pre-COVID-19 child care sickness policies. Nurses are asked to use their judgment and discretion on whether a student is well enough to remain in school, be tested or be sent home. Antigen tests may be used for children with symptoms to identify current COVID-19 infections. A student or staff member who is not well enough to participate should be sent home from school.
Good communication with pediatric medical homes in your district is important to the success of these illness policies. Aligning your approach with local medical practices will promote better outcomes.
If a student or staff member has tested positive, and you need assistance:
 You can contact your Local Health Office (preferred) with your contact information, or email

[email protected]

.
 Please do not include any patient names, dates of birth, or other patient identifying information in your email.
 You can contact the Health Department's Infectious Disease Epidemiology team at 802-863-7240 Option 2 (Mon - Fri 7:45 a.m. - 4:30 p.m.)
How to handle a suspected or confirmed case of COVID-19:  
Please see the 8/10/2022 memo from the Agency of Education on testing and handling COVID-19 cases in schools.
RESOURCES