Emergency Medical Services
Emergency Medical Services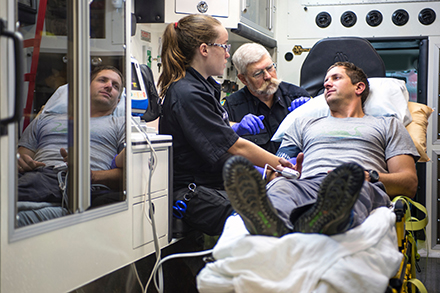 Vermont's Emergency Medical Services system – or EMS – responds to medical emergencies every day. EMS is an integrated system for providing emergency medical treatment and transportation of sick and injured patients. The Vermont Office of Emergency Medical Services works on behalf of Vermonters to ensure that the EMS system is adequately equipped and prepared to provide the best out-of-hospital emergency care possible. There are nearly 180 ambulance and first responder agencies in the state, and most of our nearly 3,000 licensed EMS personnel are volunteers.
LIGHTS - An Online EMS Licensing and Course Management System
The Vermont EMS LIGHTS database is an online EMS license management system built by ImageTrend, the creators of the Vermont SIREN incident reporting system. Its web-based functionality replaces paper applications and allows users to apply for and manage agency and personnel licenses, enroll in EMS courses and exam sites, update demographic information, and look up licensing records.     
Vermont Statewide EMS Protocols
The Vermont EMS Office is committed to supporting the delivery of excellent, evidence-based emergency care to all Vermonters and our visitors. To that end, we are constantly reviewing our treatment protocols, and we publish one major revision every two years.  You can download the most recent version below:
In This Section
Here are important documents you will need to take a practical exam, apply for or renew a personnel license, operate an EMS agency, provide training, become a HeartSafe community, or offer Public Access Defibrillation.