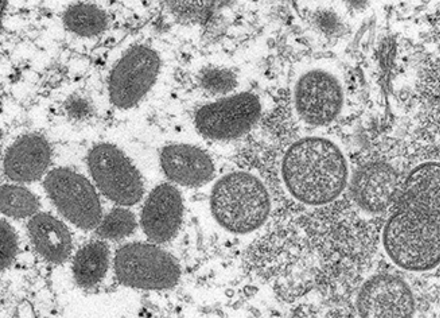 Updated 6/6/2022
Scientists at the Centers for Disease Control and Prevention (CDC) are tracking multiple cases of monkeypox that have been reported in several countries that don't normally report monkeypox, including the United States. Monkeypox is a rare disease caused by infection with Monkeypox virus. Monkeypox virus belongs to the Orthopoxvirus genus in the family Poxviridae, which also includes smallpox and cowpox viruses.
Currently, there are no known cases of monkeypox in Vermont and the risk to the public is low.
The Vermont Department of Health's infectious disease epidemiologists are following the situation closely, working with the CDC, and prepared to respond if necessary. 
Vermont Health Alerts & Advisories
US Monkeypox 2022 Situation Summary (CDC) 
Travel notice for Monkeypox in Multiple Countries (CDC)
What Vermonters Can Do
Anyone with a rash that looks like monkeypox should talk to their health care provider, even if they don't think they had contact with someone who has monkeypox. If you do not have a health care provider, call 2-1-1 to be connected to care, or contact the nearest federally qualified health center or one of Vermont's free & referral clinics.
Anyone can contract monkeypox through close personal contact. People who may be at higher risk of exposure to the virus include, but are not limited to, those who: 
Had contact with someone who had a rash that looks like monkeypox or someone who was diagnosed with confirmed or probable monkeypox.
Traveled outside the US to a country with confirmed cases of monkeypox or where monkeypox activity has been ongoing.
Had skin-to-skin contact with someone in a social network experiencing monkeypox activity, this includes men who have sex with men who meet partners through an online website, digital application ("app"), or social event (for example a bar or party). 
Had contact with a dead or live wild animal or exotic pet that exists only in Africa or used a product that comes from such animals (for example game meat, creams, lotions, powders, etc.).
How it Spreads
Monkeypox virus can spread when a person comes into contact with the virus from an infected animal, infected person, or materials contaminated with the virus, such as clothing or bedding. It is mainly spread through direct contact with infectious sores, scabs or body fluids. It also can be spread by respiratory droplets during prolonged, face-to-face contact. Monkeypox is not a sexually transmitted disease but can be spread through skin-to-skin contact through body fluids and sores.
Symptoms
Symptoms usually begin 6 to 13 days after being infected but can range from 5-21 days. 
Symptoms may start with:
Fever
Headache
Muscle aches
Backaches
Swollen lymph nodes
Chills 
Exhaustion
A person can experience a rash only. A rash usually appears 1-3 days after fever but may occur without other symptoms. 
Vaccines and Treatments
Monkeypox is closely related to the virus that causes smallpox, so the smallpox vaccine can offer protection against monkeypox. However, vaccines and treatments are not generally available to the public. 
The CDC's Advisory Committee on Immunization Practices (ACIP) recommends that people whose jobs regularly put them at high risk of exposure to orthopoxviruses, such as monkeypox, get vaccinated to protect them if they are exposed. This includes clinical laboratory personnel performing diagnostic testing for orthopoxviruses, research laboratory staff handling specimens that have known orthopoxviruses, and designated public health and health care response teams responsible for caring for multiple cases of monkeypox.
Vaccine and treatment after an exposure are available on a case-by-case basis as determined by the Health Department and CDC.
More Resources