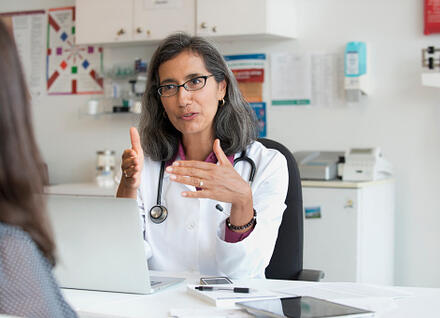 Tickborne diseases are a serious health concern in Vermont. Reports of tickborne diseases are on the rise, and while Lyme disease remains the most common tickborne disease in Vermont, other diseases like anaplasmosis and babesiosis are becoming more common. Vermont health professionals are essential partners in tickborne disease prevention efforts.

LYME DISEASE: CLINICIAN TRAINING TOOLS (CDC)
Lyme Disease Prophylaxis After Tick Bite
This video and printable poster provide information for health care providers on post-exposure prophylaxis after a tick bite, including questions to consider for determining whether a patient with a tick bite might benefit from post-exposure prophylaxis to prevent Lyme disease.
Pretest Probability and Serologic Testing for Lyme Disease
Pretest probability is the likelihood of disease before diagnostic test results are known, which can determine when Lyme disease testing would be most helpful. CDC recommends a two-step process using FDA-cleared serologic tests for Lyme disease. Both steps are required and can be done using the same blood sample. 
Lyme disease: training modules and free continuing education (CDC)
This four-part series will aid front-line healthcare providers with recognition, diagnosis, and treatment of Lyme disease, the most common tickborne illness in Vermont. The free online curriculum serves as a valuable resource for primary care clinicians, public health professionals, pharmacists, and health educators who encounter patients with Lyme disease. Free Continuing Education credits are available. To register, please go to CDC TRAIN.
Module 1: Introduction to Tickborne Diseases and Disease Prevention (WB4328)
Lyme disease transmission
Lyme disease geographic distribution
Care of a patient presenting with a tick bite
Appropriate use of post-exposure prophylaxis for Lyme disease following tick bite
Patient education about tick bite prevention
Module 2: Lyme Disease Clinical Overview (WB4329)
Early localized and disseminated manifestations
Differentiating erythema migrans from other similar skin conditions
Recognizing clinical presentations that might suggest tickborne disease co-infections
Module 3: Lyme Disease Testing and Diagnosis (WB4330)
How to select validated tests
Why there is currently no "test of cure"
How pretest probability and disease stage inform whether to test for Lyme disease
The significance of the seroconversion window period
Why testing for Lyme disease may not be clinically helpful for patients with erythema migrans
Module 4: Lyme Disease Treatment and Management (WB4380)
Treatment options for erythema migrans
Clinical management of Lyme carditis
Clinical management of Lyme arthritis
Clinical management of neurologic Lyme disease
Care of patients with persistent symptoms attributed to Lyme disease
NEW 

erlichiosis and anaplasmosis: Free continuing education (CDC)

Ehrlichiosis and anaplasmosis are emerging tickborne diseases. Signs and symptoms of these diseases can be difficult to differentiate from other disease, but early recognition and treatment are key to prevent severe and fatal outcomes.

CDC released a new training module on the diagnosis and treatment of ehrlichiosis and anaplasmosis with opportunities for continuing education in seven professional categories (CME, CNE, CPE, CEU, CECH, AAVSB/RACE and CPH), which provides credit for physicians, nurse practitioners, pharmacists, veterinarians, nurses, epidemiologists, public health professionals, educators, and health communicators. The module includes knowledge checks and a case-based scenario to help providers apply what they have learned. Key learning points covered in the module include: 
Distribution of and epidemiology of ehrlichiosis and anaplasmosis in the United States
Key clinical findings of ehrlichiosis and anaplasmosis
Treatment recommendations
Evaluation of testing options
Disease prevention
 
Tickborne Disease Reporting
Help Patients Prevent Tickborne Diseases