Vaccination coverage, or the percent of people who have received particular vaccines, is measured at national, state and local levels. The Immunization Program reviews data to assess vaccination coverage, identify populations at risk and measure the impact of current initiatives.
Data collected in Vermont
Under the Health Insurance Portability and Accountability Act (HIPAA) Privacy Rule, institutions reporting or releasing data are required to protect personally identifiable health information in their reports being shared with the public. Thus, various data suppression rules are applied in the Vermont Department of Health Vaccine Data to limit publicly sharing health information about individuals. For an outline of these rules and examples, refer to the Data Suppression Rules guide. 
Child Care Vaccination Coverage Data
Vermont law requires that all regulated center-based and family child care facilities submit annual data on immunization coverage. The 2018-2019 Immunization Survey was conducted through the Department for Children and Families (DCF) and the Child Development Division (CDD) in collaboration with the Department of Health Immunization Program.
Key Findings in 2019
In 2018-2019, 95% of all regulated child care programs completed the report. The 997 programs reporting represent 17,822 children younger than age five (approximately 59% of all Vermont children that age) and not enrolled in school, receiving full or part-time care. A limitation of the data is that children may be enrolled in, and reported by, more than one child care program.

For children younger than five years of age enrolled in Vermont regulated child care programs:
Meeting Requirements
93.7% met all vaccine requirements for their age, an improvement of 0.6% from the prior year.
For all individual vaccines, the percentage of children meeting requirements rose in 2018-2019.
Coverage was above 95% for each required vaccine.
Provisional Admission
3.5% were provisionally admitted (children that were not up-to-date on all required vaccines and did not have a signed exemption), a decrease from 4.0% in 2017-2018.
Exemptions
2.6% had a religious exemption, consistent with the previous year.
0.2% had a medical exemption, the same percentage as school age children.
View the Data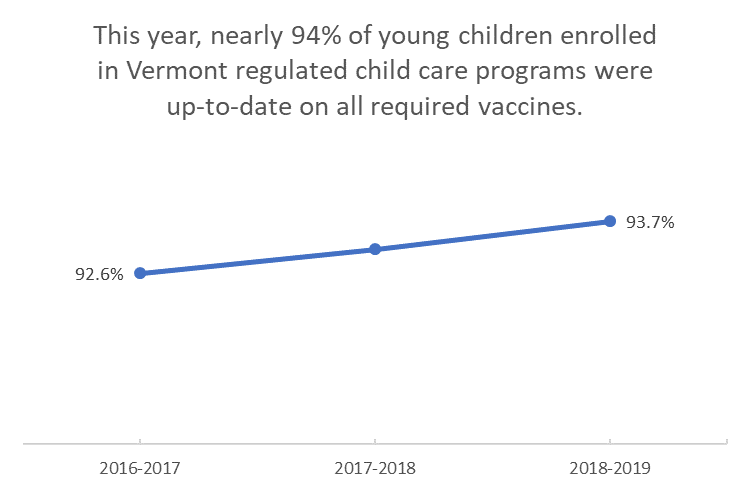 K-12 Public and Independent Schools Vaccination Coverage Data
Colleges and Universities Vaccination Coverage Data
Vermont's Immunization Rule sets minimum vaccination requirements for attendance at colleges to protect students, staff and visitors against vaccine-preventable diseases.
Key Findings 2022
Statewide data submitted for the fall semester of 2021 show that overall 92% of newly entering college students are fully vaccinated, with over 96% meeting the requirement for two doses of measles, mumps, and rubella (MMR) vaccine. To learn more, read the College and University Immunization Rates, 2021-2022 Data Brief here.
Vermont Immunization Registry Coverage Data
National Vaccination Coverage-Kindergarten, 2020-2021
Behavioral Risk Factor Surveillance System (Adults)
Vermont tracks adult health-related risk behaviors, chronic health conditions and use of preventive services using a telephone survey called the Behavioral Risk Factor Surveillance Survey (BRFSS).
National Seasonal Flu Vaccination Coverage
The Centers for Disease Control and Prevention (CDC) provides an annual report on Seasonal Flu Vaccination Coverage by age group and season.