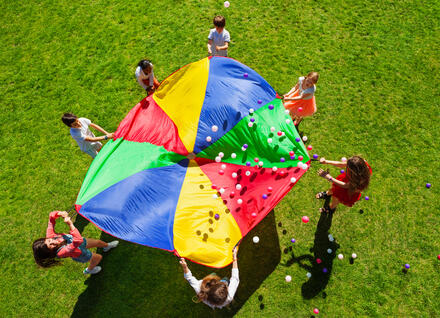 As of June 14, there are no COVID-19 restrictions or requirements for Vermont's child care or out of school programs. 
With Vermont's high vaccination rates and low number COVID-19 cases, it's safe for most Vermonters to return to the activities they did before the pandemic. Our high vaccination rates mean the vast majority of Vermonters are protected from the virus, and keep the virus from spreading to others.
In العربية | မြန်မာစာ | Français | Kirundi | नेपाली | Soomaali | Español | Swahili | Tiếng Việt
Because a COVID-19 vaccine is not currently available for children under 12 years old, there are a large number of unvaccinated people at schools, child care and summer camps. Masks are recommended for unvaccinated people (2 years and older) when inside, throughout the summer. This is the recommendation of the Vermont Department of Health. There are other ways to protect children and families from COVID-19 infection, such as staying home when you're sick, and frequent hand washing. Learn more about why, how and when to do these things.
If you learn of a positive case at your child care or out-of-school care program, contact the Health Department's Infectious Disease Epidemiology team. Call 802-863-7240 (Mon - Fri 7:45 a.m. - 4:30 p.m. and follow the prompts).
Surveillance Testing for Summer Camps and Programs
Return to Child Care or Out of School Programs Following Illness