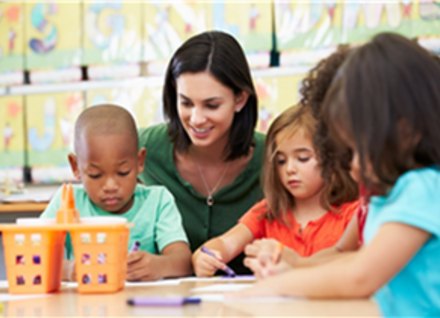 High quality early experiences promote brain development, socio-emotional skills and support learning for children so that they will succeed in school. In Vermont almost 13,000 children under the age of 3 need some form of child care. 70% of Vermont children under the age of 6 have both parents in the work force.  High quality child care programs help children learn healthy habits and promote health behaviors associated with lifelong health.
For Parents and Caregivers
Vermont's Childcare Wellness Consultants are trained Registered Nurses who are available to early care and education programs in Vermont for guidance and expertise around a comprehensive list of health and safety topics. For more information, keep reading.
For Child Care Providers         
To help assure that children in your care can learn and grow in a safe and healthy environment, the Vermont Department of Health, in collaboration with the Department for Children and Families, is available to provide guidance on current health and safety standards and best practice. 
The Child Care Wellness Consultant Program is in transition. The program, funded by Vermont's Early Learning Challenge Grant and managed by the Vermont Department of Health since 2014, ended on December 31, 2017. Medication Administation Trainings (MAT), a positive and lasting product from this effort, will be continued and transitioned to Vermont's Early Childhood Comprehensive Development System - Northern Lights at Community College of Vermont (CVV) - effective January 2018. We continue to plan for how to best offer and sustain ongoing phone and on-site health consultation and other technical assistance and support for child care and early learning programs. For the foreseeable future, Maternal and Child Health nurses in the Vermont Department of Health District Offices will be available to child care and early learning programs and professionals for questions regarding health and safety issues and connections to community health resources. Contact information for each region is included below.
Many thanks for your commitment to the health and safety of Vermont's youngest children and families. 
Here is the memo on this subject that went out to the field
Vermont Resources and Licensing Regulations
National Resources