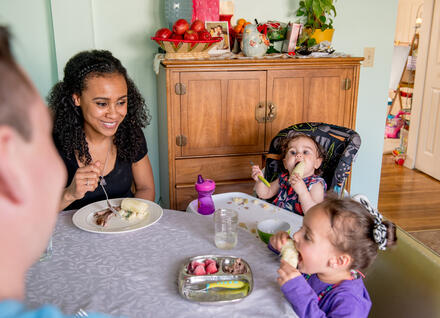 Individualized nutrition services are sometimes necessary for children with special health needs who have specific growth, feeding and dietary needs. Services are provided by expertly trained Registered Dieticians (RDs) who serve all regions of Vermont.
Children who are commonly referred for these services are living with a special health need, and:
Have difficulty gaining or losing weight
Eat only a limited variety of foods
Have problems with constipation
Have challenges with feeding and eating
Cannot safely eat by mouth
Have diagnoses that change their needs for specific nutrients
Why are Community Nutrition Network services needed? 
As many as 40% of infants and children with special health care needs are at nutritional risk.
Children with chronic health conditions are at high risk for nutrition and related feeding behavioral problems due to changes in developmental skills, behavior and emotional regulation, and changes in digestion and metabolism related to many chronic conditions. Children with Special Health Needs dietitians' strategies to address these challenges can augment treatment plans and improve outcomes, including improved growth, behavior, parent-child interaction and cognitive development.
A well-nourished child has greater alertness and stamina to participate in therapies, educational activities and social interactions, and also benefits from fewer illnesses and improved coping skills. Improved nutritional status and feeding skills may increase the level of independence the child is able to achieve. It can improve the child's perception of self and the caregivers' perceptions of their abilities to meet the child's needs.
How does a family access Community Nutrition Network services?
Contact Us:
Children with Special Health Needs
Vermont Department of Health
108 Cherry Street, PO Box 70
Burlington, VT 05402
Tel: 800-660-4427 or 802-863-7338
Fax: 802-863-7635