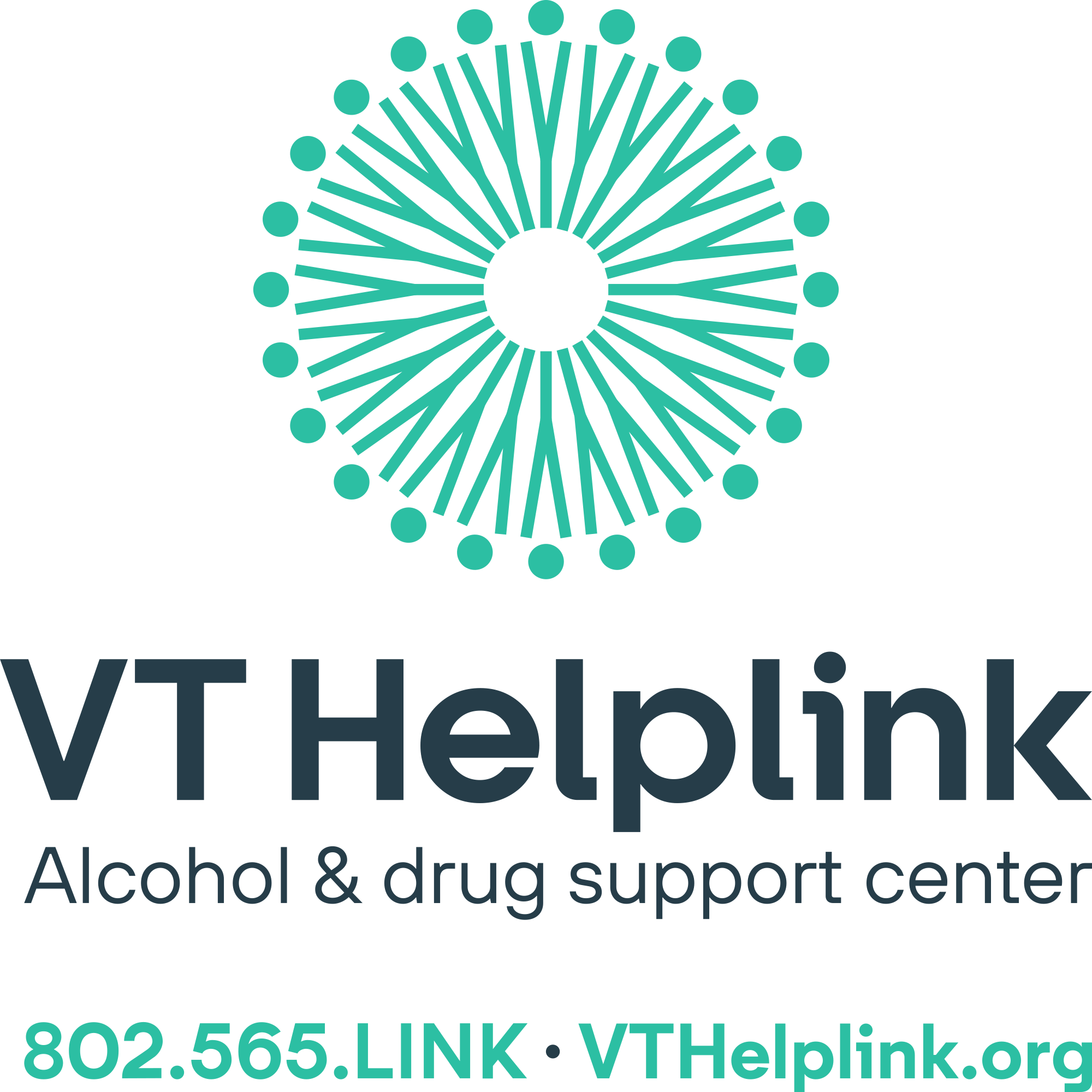 Many different kinds of professionals provide treatment for substance use disorders. In most treatment programs, the main caregivers are specially trained individuals who are certified or licensed as substance use treatment counselors.
Most treatment programs in Vermont assign you to a treatment team of professionals. Depending on the type of treatment, teams can be made up of social workers, counselors, doctors, nurses, psychologists, psychiatrists or other professionals.
What are the different ways you can get help?
There are a few ways you can begin treatment. You can contact a counselor or treatment center directly, or someone you are already working with (for example, your doctor, nurse or social worker) can help you contact one.
Outpatient Programs provide assessment and counseling services while you live at home. This may include meeting with a counselor one-on-one or going to a group meeting one or two times a week.
Intensive Outpatient Programs usually last for about 2-3 hours a day, 3 days a week, for several weeks while you live at home.
Residential Programs offer counseling and group services while you live at a treatment center for a few weeks at a time.
The Hub & Spoke System of Care is a team of health professionals (called "Spokes") and treatment centers (called "Hubs") who provide medication for opioid use disorder (MOUD), like methadone, buprenorphine or Vivitrol to Vermonters addicted to prescription opioids or heroin.
Hub and Spoke Evaluation & Brief
Recovery Centers provide welcoming, safe and supportive environments. Recovery Centers offer peer supports, substance-free recreation activities, volunteer opportunities and community education and recovery supporting services such as Alcoholics Anonymous or Narcotics Anonymous.
What type treatment is right for you?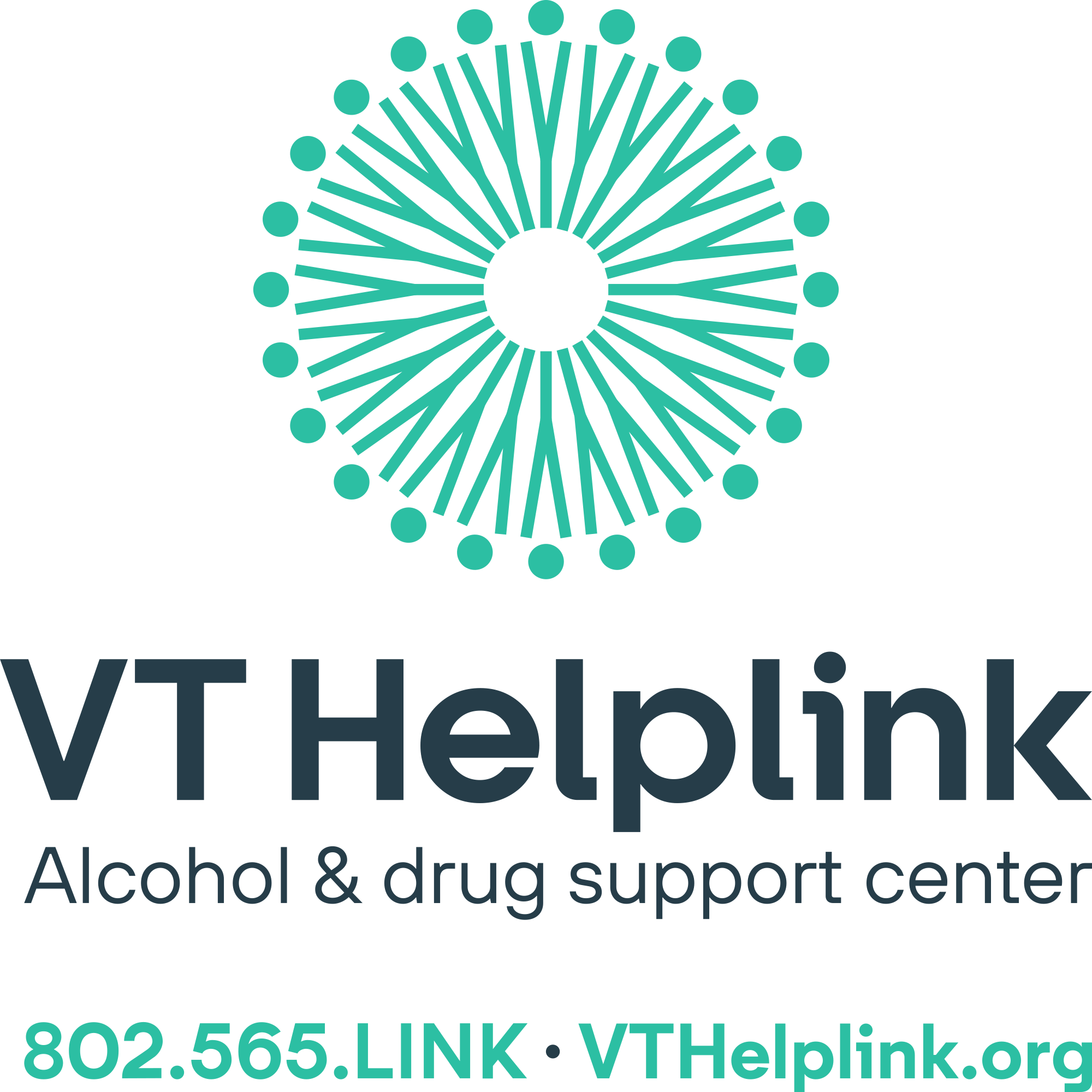 VT Helplink is a free and confidential alcohol and drug support and referral service provided by the Vermont Department of Health.
On the phone or online, VT Helplink offers personalized services, based on your specific needs. Visit VTHelplink.org or call 802-565-LINK (or toll-free 833-565-LINK) 
What can you expect?
Calling a counselor or treatment center to get help can be hard, but it is a huge first step toward a healthier life. During the call, the counselor or treatment center staff may want to ask you about alcohol, marijuana, prescription drug, or other drug use. They may ask questions like "how much?" and "how often?" so be sure to call from a quiet place where you feel comfortable talking. The counselor or treatment center staff may schedule an appointment with you for an assessment or may refer you to another treatment center. After you have the assessment, your counselor or treatment provider will talk about the next steps for you in treatment.
Although treatment programs differ, the basic ingredients of treatment are similar. Most programs include many or all of the following elements.
1. ASSESSMENT
All treatment programs begin with a clinical assessment of a your treatment needs. This assessment helps in the development of an effective treatment plan.
2. TREATMENT PLAN:
You and your treatment teams develop a treatment plan based on the assessment. A treatment plan is a written guide to treatment that includes your goals, treatment activities designed to help you meet those goals, how to tell whether a goal has been met, and a timeframe for meeting goals. The treatment plan helps both you and treatment program staff stay focused and on track. The treatment plan is adjusted over time to meet changing needs and ensure that it stays relevant. Program staff members may ask for urine or other samples for drug testing in order to confirm the effectiveness of the treatment plan.
3. COUNSELING & SELF-HELP GROUPS:
Group and Individual Counseling: Based on the assessment and your stated needs, counseling will help you move toward a lifestyle that reflects your goals and values. This includes changing your relationship to drugs and alcohol. Group counseling is different in each program, but group members usually support and try to help each other develop a healthier life. They share their experiences, talk about their feelings and problems, provide mutual support and encouragement, and receive information and education about the effects of alcohol and drug use on their bodies.
Family and Couples Counseling: Family counseling works with families and couples in intimate relationships to nurture change and development. This type of treatment is especially critical for adolescents. Parents need to be involved in treatment planning and follow-up care decisions for the adolescent. Family members also need to participate as fully as possible in the family counseling the program offers.
Self-Help Groups: People in self-help groups support and encourage one another to become or stay drug and alcohol free. Twelve-Step programs are perhaps the best known of the self-help groups. These programs include Alcoholics Anonymous and Narcotics Anonymous. Members themselves, not treatment facilities, run self-help groups. In many places, self-help groups offer meetings for people with particular needs.
Many treatment programs recommend or require attendance at self-help groups. By attending, you may make new friends who help you stay in recovery. The number of meetings required varies by treatment program – some programs encourage people to attend "90 meetings in 90 days," such as Alcoholics Anonymous and Narcotics Anonymous. Some treatment programs encourage people to find a "sponsor" - someone who has been in the group for a while and can offer personal support and advice. Self-help groups are very important in most people's recovery. It is important to understand, however, that these groups are not the same as treatment. There are self-help groups for family members, too, such as Al-Anon and Alateen.
4. FOLLOW-UP/CONTINUING CARE:
Even when you have successfully completed a treatment program, recurrence can be common during recovery. The longer you stay in treatment, including follow-up, the more likely you are to stay in recovery. Once you have completed treatment, a program will offer options for continuing care or referral for recovery supports.
Recurrence Prevention Planning: One common form of treatment is recurrence prevention planning. It teaches you how to identify your relapse triggers, how to cope with cravings, how to develop plans for handling stressful situations, and what to do if they reoccur. A trigger is anything that makes you crave a drug. Triggers often are connected to the your past use, such as a person you have used drugs with, a time or place, drug use paraphernalia, or a particular situation or emotion.
What if you are worried about...?
Leaving your family to go to a residential program.
Fitting treatment in your schedule due to work, family responsibilities, or other reasons.
Traveling to get treatment.
Paying for treatment.
Talk about these things with your counselor or treatment center and they can help you.
How soon can you get help?
The amount of time it takes between when you call and when you can start treatment can vary. The program will work with you so that you get help as quickly as possible.
If you are pregnant you will be considered a priority for treatment.
What are treatment resources for youth?
Approximately 8% of young adults age 18-25 in Vermont need but do not receive treatment for illicit drug use and as many as 14% need but do not receive treatment for alcohol use. Additionally, 3% of adolescents age 12-17 in Vermont need but do not receive treatment for illicit drug use and as many as 3% need but do not receive treatment for alcohol use.
Vermont Department of Health is working hard to partner with Vermont's providers to meet the substance abuse and mental health care needs of Vermont's adolescent and young adult populations by providing services that are the best fit for youth in need.
Learn about Family Programs, such as Parent Up Vermont, to help you speak with your children about substance use.
How do you know if your child needs help?
Drug and alcohol use could cause changes in social activity, physical or mental health, or problems at school or at home. If you notice changes in your child's mood or behavior, and suspect or know your child is using drugs or alcohol, there are resources to help you have a conversation with your child and get them treatment if needed. Visit ParentUpVT.org for more information on risks, warning signs, tips for talking with your child, and how to get help.
How can you find help?
If you are concerned your child may be using drugs or alcohol, a good place to start is with your child's doctor or school staff like Student Assistance Professionals (SAP), school-based clinicians, or guidance counselors. When choosing treatment for your child, ask for a treatment provider who specializes in treating youth.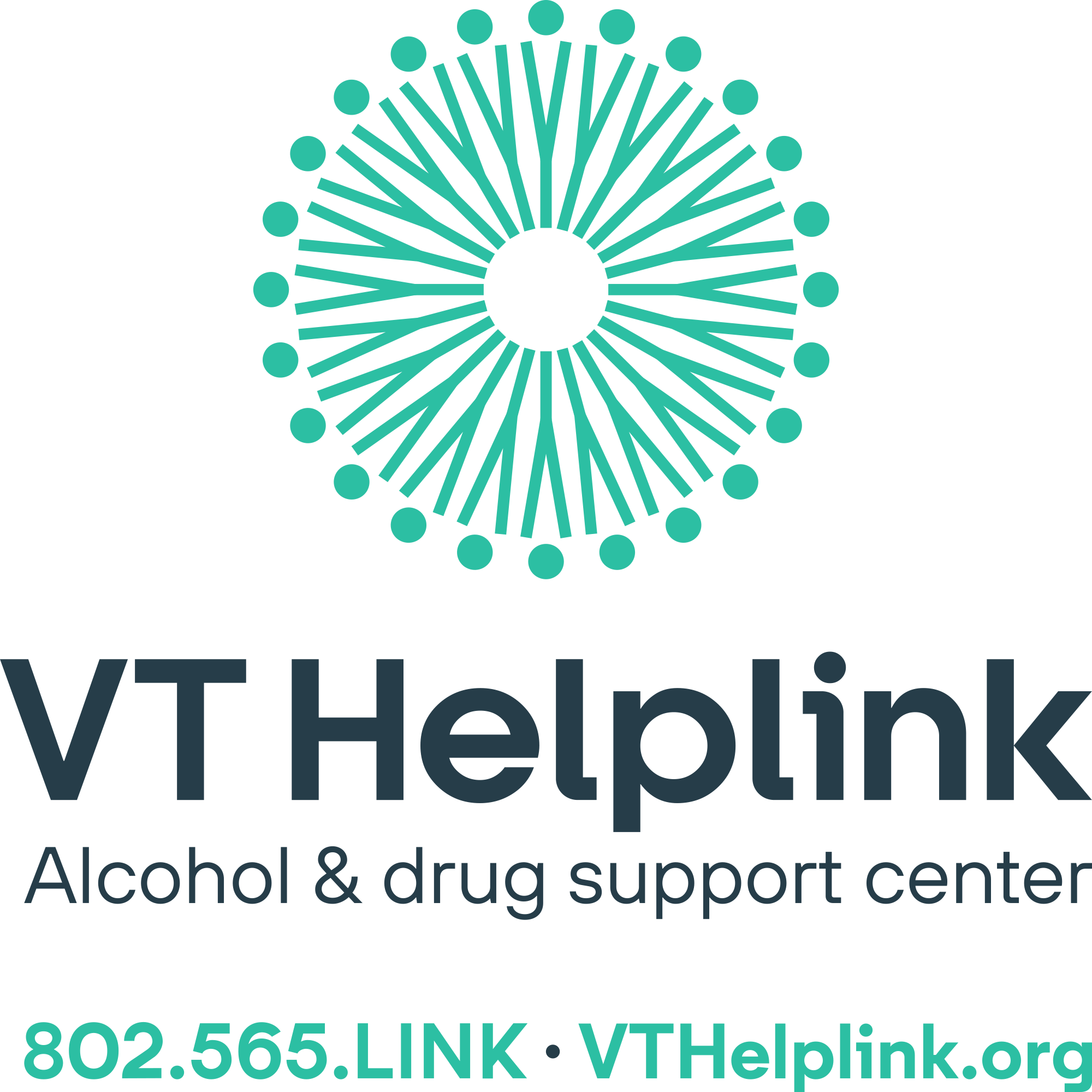 VT Helplink is a free and confidential alcohol and drug support and referral service provided by the Vermont Department of Health. On the phone or online, VT Helplink offers personalized services, based on your specific needs. Visit 
VTHelplink.org
 or call 
802-565-LINK
 (or toll-free 
833-565-LINK
) 
What are Substance Free and Recovery Resources for youth?
Taking part in substance-free activities can help prevent youth substance use and support youth recovery. These activities can include youth mentoring programs, Boys and Girls Clubs, teen and community recreation centers, school sports, groups and activities, summer and school vacation camps, and adolescent support provided through faith-based organizations. Prevention and recovery services can be found through school health staff or your child's doctor. Your local mental health and substance use disorder treatment agency may have resources for you as well. Some Recovery or Turning Point Centers have programing specifically for youth, such as Alateen.
What are some additional treatment resources?
Medication
Many programs use medications to help in the treatment process. Although no medications cure dependence on drugs or alcohol, they can help people prevent recurrence and can be lifesaving.
Medication is the primary focus of some programs, such as the medication-assisted opioid treatment programs (OTPs) or "hubs" in Vermont. Methadone is a medication that prevents opioid withdrawal symptoms for about 24 hours, so you must take it daily. Taken as directed, it does not make you high but allows you to function normally. In fact, methadone blocks the "high" you get from an opioid drug.
You may stay on medication assisted treatment for a very short period of time, as determined by you and your doctor. You may also stay on medication for long periods of time or for life. This is called medication maintenance treatment.
People who receive this treatment often have good jobs and lead happy, productive lives.
If you are taking medications for HIV infection or AIDS or for any other medical condition, it is important that medical staff members know exactly what you are taking. Mixing some medications with methadone or buprenorphine may mean that you will need special medical supervision or changes in medication dosage.
Buprenorphine is another medication that may be used to treat opioid dependence and is sometimes used by OTPs. Buprenorphine was approved for treatment by primary care doctors in their offices. A doctor treating you with buprenorphine generally will also provide or refer you for counseling.
Treatment for Mental Health Conditions
Many people with a substance use conditions also have mental health conditions such as depression, anxiety, or post-traumatic stress disorder. Treating both the substance use and mental health conditions increases the chances that you will recover and lead a life that reflects your goals and values. The program may provide mental health care, or it may refer you to other sites for this care. Mental health care can include the use of medications.
Why does treatment take so long?
Substance use disorders affect every part of your life. For that reason, treatment must touch every part of your life as well.
Treatment is more than helping you stop drinking alcohol or using drugs. It means creating a healthier lifestyle, developing new and positive coping strategies, and connecting with a new support system. Research shows that with treatment, positive influences, and a healthy lifestyle, people recover!