The Abenaki People of Vermont

To learn more about the Abenaki people of Vermont, please visit the websites listed below.  
Koasek Traditional Band of the Koas Abenaki Nation (the website is temporarily unavailable)  
Community Organizations & Resources
The Vermont Indigenous Heritage Center  
The Abenaki Arts and Education Center 
The Vermont Commission on Native American Affairs
Missisquoi Youth Program (Missisquoi Valley School District)
Abenaki Nation of Missisquoi Food Pantry
Image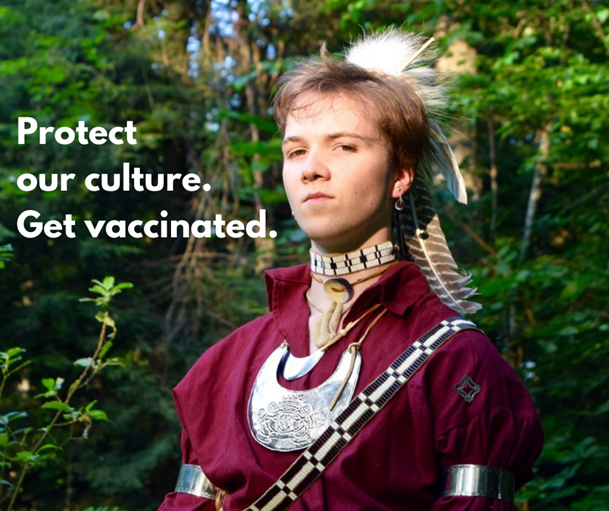 Health Inequities and Vaccination among Vermont's Native Americans
CDC reports that Native American/Alaska Natives have the highest vaccination rates in the nation. However, in Vermont, that figure is just 30% – the second-lowest rate among people age 12 and older in the state. In addition, data in the Vermont State Health Assessment 2018 show that Native American/Alaska Native individuals in Vermont have the highest percentage rate of adults who report poor physical and mental health. These data are important indicators of how health inequities can lead to negative health outcomes. These issues are not unique to Vermont. Even when we cannot measure differences due to the small number of individuals who self-identify with certain communities who live in Vermont, we know that many share similar experiences with people across the country: stigma, racism, bias, discrimination, social isolation, and unequal access that are at the root of trauma and toxic stress, worse health outcomes and lower quality of life.
As of February 1, 2023, state-run, walk-in COVID-19 and flu vaccination clinics are closed. Contact your doctor or local pharmacy to find out how to get vaccinated. Vaccines.gov - Find COVID‑19 vaccine locations near you
 
Non-Hispanic, American Indian and Alaska Native Vermont Adults

Source: Vermont Behavioral Risk Factor Surveillance System, 2014,2017,2021 (intimate partner violence), 2019-2021 (all other measures)
 
| | |
| --- | --- |
| Measure | Percent |
| Chronic Conditions |   |
|      Cardiovascular Disease  | 24% |
|   Chronic Obstructive Pulmonary Disease | 13% |
| Depressive Disorder | 31% |
| Diabetes | 17% |
| Hypertension | 30% |
| Obesity, ages 20+ | 33% |
| Overweight, ages 20+ | 29% |
| Risk Factors & Behaviors |   |
| Alcohol Consumption-any in the past month | 62% |
| Current Cannabis Use | 38% |
| Current Cigarette Smoking | 30% |
| Intimate Partner Violence-ever physically hurt | 27% |
| Preventative Behaviors & Screenings |   |
| Routine doctor visits in the past year | 71% |
Learn more about our efforts to address health inequities and improve health outcomes for all people in Vermont: Vermont State Health Improvement Plan 2019-2023
Connect and learn about health services available in your district by contacting with your Local Health Office.
Seeking to quit commercial tobacco? Contact Health Promotion & Chronic Disease's Tobacco Team to learn more about culturally sensitive, tailored commercial tobacco cessation support through the American Indian Commercial Tobacco Program.
 
Community Lens
By Chief Joanne Crawford, Abenaki Nation of Mississquoi
In Vermont, most health and mental health care providers and others in related fields have little or no access to data or research regarding the Indigenous people of this land, the Abenaki. This has led to a lack of understanding of and appropriate services for the community. Already struggling with historical and intergenerational trauma, the lack of appropriate care has only exacerbated the many health and social challenges so prevalent in this population.
Image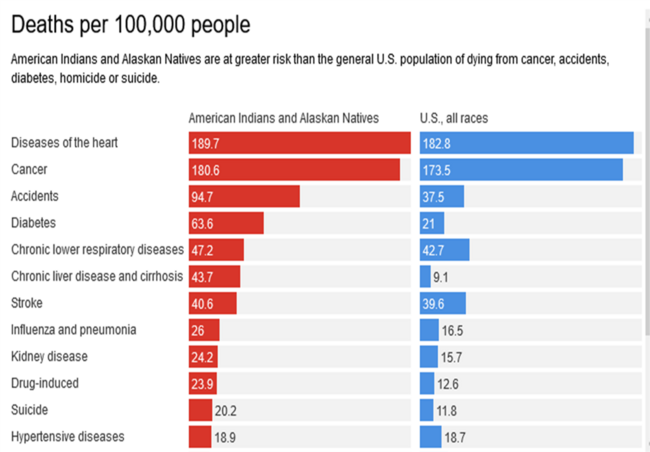 The chart shows national health figures for Indigenous people in the United States. It is not too far a stretch to image that the Abenaki struggle with the same health and mental health challenges.
How do we help? Include Indigenous people in the data, work with the tribes to find culturally appropriate programs that work for their community, provide equitable support, services and funding, and include them in your advisory panels, councils, and boards. It is important for agencies and organizations to engage with Indigenous communities with transparency and recognition of the expertise of their lived experiences in order to sustain authentic working relationships.