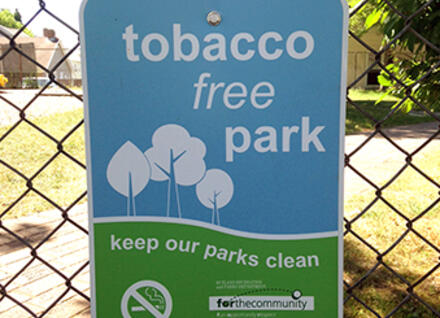 In an effort to reduce tobacco use in Rutland County, we connect tobacco prevention and quit partners with schools and community organizations. Together we work to address access to tobacco products, establish tobacco free worksites and college campuses and reduce exposure to secondhand smoke. Rutland Local Health Office staff have provided support and technical assistance to the Rutland Regional Medical Center and the Community Health Centers of the Rutland Region as they prepare to adopt tobacco free policies on their grounds and campuses.
Smoking rates in Vermont are declining, but they remain higher in some groups. Learn more about how we provide services and supports to those with the highest rates of smoking and tobacco use.
Resources for Quitting
For individuals looking to quit smoking and using tobacco products, we are your local connection to the statewide 802Quits program. Contact 802Quits online or by phone at 1-800-QUIT-NOW (784-8669) to access their free resources, including:
Free gum, patches and lozenges
Online help
In-person help
Help by phone
Help quitting on your own
Rutland Regional Medical Center has group tobacco cessation classes or individual counseling. For more information, contact Sarah Cosgrove at 802-747-3768 or scosgrove@rrmc.org.
MyHealthyVT.org is a website the result of a partnership of Vermont organizations dedicated to helping Vermonters like you get the support you need to take control of your health. 802Quits has local Vermont Quit Partners ready to help you set up a plan and succeed in being tobacco-free. There are free workshops with Vermont Quit Partners all across Vermont available to provide support.
Local Highlights
The Rutland Area Prevention Coalition received a grant from the Department of Health to help local organizations and business adopt tobacco free policies. To date the coalition has assisted pet supply and veterinarian businesses as well as colleges and universities with implementing such policies.The Rutland Area Prevention Coalition was also instrumental in the adoption of a Rutland City ordinance banning tobacco use in city parks, at downtown events and within a number of housing complexes. As a result, opportunities for exposure to secondhand smoke have been greatly reduced.
CounterBalance is a campaign directed towards the tobacco industry's influence on youth and the damaging impact tobacco use has on community heath.
Learn More
Tobacco Use in Vermont
Alcohol, Tobacco and Other Drugs – Vermont Community Profiles
Contact Information
Bethany, Public Health Specialist
802-786-5115