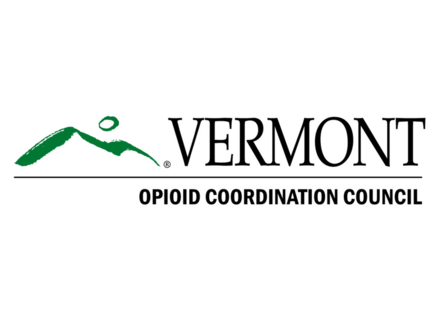 The Opioid Coordination Council (OCC) was created by Gov. Phil Scott in January 2017 to identify best practices and strategies for communities to address opioid addiction, break the generational cycle of substance use disorder and the stigma associated with it, and support long-term recovery.
In June 2019, the Vermont Legislature passed, and Gov. Scott signed into law, S. 146, creating the Substance Misuse Prevention Oversight and Advisory Council. In July 2019 this new council replaced the OCC, the Vermont Alcohol & Drug Abuse Council and the Tobacco Evaluation Review Board. The new council expands focus to all substances, and bring special attention to prevention. 
This webpage contains reports and meeting materials from the OCC's two years of engagement with state, regional and local leaders, service organizations and people affected by the opioid crisis. While the OCC has made much progress, it is with the knowledge that much remains to be done to turn the curve on Vermont's substance misuse challenges and to improve prevention efforts toward the health and well-being of all Vermonters.
Reports, testimony, comments
About the Council
Governor Scott created the position of Director of Drug Prevention Policy and the Vermont Opioid Coordination Council in his second Executive Order (#02-17, updated in #09-17) on January 5, 2017. The Council's first meeting was on May 8, 2017.
In the executive order, Governor Scott charged the Council "to lead and strengthen Vermont's response to the opiate crisis by ensuring full interagency and intra-agency coordination between state and local governments in the areas of prevention, treatment, recovery and law enforcement activities."
Governor Scott's three-pronged approach is to:
Reduce the demand for opioids through education, building strong families and neighborhoods, and increasing economic and job opportunities;
Afford adequate and effective treatment and recovery opportunities to those addicted to opioids; and
Reduce the supply of opioids through robust and coordinated law enforcement targeting drug traffickers and through preventing diversion of prescription opioids.
The Council provided its first set of recommended strategies to Gov. Scott in January 2018, and continued to work with state agencies and departments, local governments, and community organizations to make improvements in the highest priories of these strategies. The Council's final report in January 2019 called for a focus on prevention, and additional priorities in integration and coordination of services. Many of these improvements in prevention, intervention, treatment and recovery services are reflected in intra- and inter-agency working groups, and projects taken on by private and public collaborations.
Events
Opioid Overdose Awareness Event, April 11, 2018
Workforce Summit, April 17, 2017
Council Meetings, Minutes & Materials
The OCC conducted its concluding meeting on May 17, 2019. Committee meeting notes will continue to be added until further notice.
Meeting Minutes
Meeting Minutes

Meeting materials
May 17, 2019
CVMC Data
Housing: A Critical Link to Recovery
Howard Center: Low Barrier Buprenorphine
ITR Committee Presentation
Safe Recovery Fact Sheet
 

Health Department Prevention Presentation
VT Afterschool Presentation
Chile/Soriano Presentation
W. Virginia/Mann Presentation

Health Department Opioid Update Slides
Director's Report Slides
Addiction & the Brain - presentation by UVM Dr. Thomas Simpatico

December 10, 2018
Agenda
 
October 1, 2018
Agenda
Request for Comment - Expungement Report
August 13, 2018
Agenda

Opioid Coordination Council Residential Services Slides
Valley Vista Inpatient Residential Treatment Program Slides

June 11, 2018
Agenda
 
Drug Enforcement in Vermont Slides
April 9, 2018
Department of Health Marketing Summary
Department of Mental Health Overview
Co-occurring Conditions - Dan Hall
Opioid Overdose Awareness Event Flyer
March 12, 2018
Health Department Syringe Service Programs Presentation
H2RC Syringe Exchange Programs Handout
CDC Syringe Services Handout
Howard Center Safe Recovery Fact Sheet
February 12, 2018
Hub & Spoke Evaluation Brief
Hub & Spoke Evaluation Presentation
Hub & Spoke Caseload Presentation
RiseVT Presentation
December 11, 2017
Roadway Safety Presentation
WCYSB Presentation
Cannabis & Opioids Presentation
Education & Prevention Subcommittee Presentation
November 6, 2017
 
September 11, 2017
Dept. for Children & Families Presentation
August 14, 2017
Attorney General's Office Presentation
Dept. of Corrections Presentation
Prevention Works! Presentation
July 10, 2017
Public Safety & Health Dept. Presentation
HealthyCities Presentation
Law Enforcement Presentation
CVU Prevention Presentation
Health Department Presentation
June 12, 2017
Care Alliance Handout
NCVRC Brochure
Hub & Spoke Brief
ADAP Presentation
Council Members
Click on the council member's name to read their biography.
 council Member

  Term Expiration

Seat Requirements

4/30/2019

Vermont Mayors' Coalition

N/A

Commissioner of Public Safety (tri-chair)

4/30/2019

Substance Abuse Prevention & Treatment Professional

4/30/2019

Designated Agency

4/30/2019

Vermont Association of Hospitals and Health Systems

1/1/2019

First Responder

4/30/2019

Educator in Substance Abuse Prevention

4/30/2019

At-large Business

Scott Cooney
Fire Chief, Town of Hartford

5/20/2019

First Responder

4/30/2019

U.S. Drug Enforcement Agency

4/30/2019

Vermont Association of Chiefs of Police

N/A

Vermont Attorney General

4/30/2019

Local non-profit housing organization

N/A

Secretary of Human Services (tri-chair)

4/30/2019

Judicial Branch

4/30/2019

Community Leader (tri-chair)

N/A

Commissioner of Health

4/30/2019

Vermont Association for Mental Health, Addiction and Recovery

4/30/2019

Vermont Sheriffs' Association

Christina Nolan, U.S. Attorney, Vermont
N/A

U.S. Attorney, District of Vermont

4/30/2019

At-large

4/30/2019

Vermont League of Cities and Towns
Council Committees
The Council's 2019 work will be informed by a Prevention Committee, and a committee on Intervention, Treatment & Recovery. These committees will engage a cross-section of state agencies and departments, providers, the private sector and other stakeholders to further the development and implementation of the 2019 strategies.
Prevention committee 
The Prevention Committee's work will address the 2019 strategies:
A. Establish and sustain a statewide infrastructure for primary and secondary prevention to ensure consistent and equitable leadership, programming, and use of resources. This includes: 1) an investment model (priority strategy); 2) a statewide prevention committee; 3) a statewide prevention leadership position; and 4) strengthening prevention networks, coalitions and collaboratives.
B. Implement statewide comprehensive school-based prevention.
C. Increase geographic equity and access to afterschool programs and out-of-school activities.
D. Implement a statewide multi-generation prevention care approach to promote protective factors and identify risks including substance use disorder, through screening and sustained home visits, for pregnant and parenting women and their children (priority strategy).

2019 Intervention, treatment and recovery committee (ITR)
Next meeting of the Intervention, Treatment and Recovery Committee: 
Wednesday, October 23, 9 – 11:00 a.m.
The Intervention, Treatment and Recovery Committee's work will address the 2019 strategies:
Intervention
A. Expand and reinforce syringe services programs statewide.
B. Build a human bridge of intervention where services engage people with addiction at critical moments of risk/harm (injection, overdose, withdrawal, illness and injury). These services include law enforcement, emergency departments, syringe services programs, primary care, and other clinical settings.
Treatment
A. Vermont must continue to evaluate, improve quality, and increase treatment capacity as needed, particularly outcomes measurement and evaluation of capacity and scope of services in the Hub and Spoke treatment system for opioid use disorder provides.
B. Continue implementing the expansion of medication-assisted treatment (MAT) in correctional facilities, including refinement of intake assessment, data collaboration, and recovery supports within and beyond the facilities.
Recovery
Build and support the Recovery Bridge: Integrate recovery services across Vermont to ensure access to robust recovery supports is available to all in need (priority strategy). This includes the sub-strategies of recovery-friendly housing availability, employment in recovery supports, recovery coach workforce development, and transportation process and service improvements.
2019 intervention, treatment and recovery committee
MEETING DATE

AGENDA, NOTES

materials
December 18, 2019
 
 
October 23, 2019
 
 
August 28, 2019
 
 
June 26, 2019
 
 

April 24, 2019

Notes
Presentation
2018 Recovery strategies Committee
MEETING DATE

AGENDA, NOTES

materials
September 20, 2018
Notes
 
August 2, 2018
 
June 21, 2018
Agenda
May 17, 2018
Agenda
April 19, 2018
Agenda, Notes
Vermont Department of Corrections Transitional Housing
Vermont Foundation of Recovery
State Policy Guide for Supporting Recovery Housing
Homeless Prevention Center's Handouts
March 22, 2018
Agenda, Notes
 
February 21, 2018
Agenda, Notes

 
Contact Information
Sarah Gregorek 
Vermont Department of Health 
108 Cherry Street
Burlington, VT 05402
[email protected]