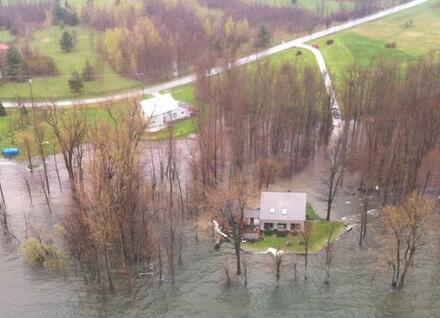 Water may not be safe to drink, cook or clean with after an emergency such as a flood. During and after flooding, water can become contaminated with microorganisms—such as bacteria, sewage, heating oil, agricultural or industrial waste, chemicals, and other substances that can cause serious illness.
Call the Drinking Water Program at 802-863-7220 or 800-439-8550 (toll free in Vermont) for guidance.

DO NOT USE WATER FOR:
Baby formula until a water test confirms it is safe
Any purpose if water has the smell of petroleum or chemicals.
People with private drinking water wells in flooded areas should assume their water is contaminated.
Take all precautions if:
The well was covered with floodwaters or located near flooding
There has been a change in water quality (smell or taste)
Until a water test confirms that the water is safe, get water from a known safe source or boil for 1 minute to use for:
Drinking
Cooking
Making juice or ice
Washing fruit and vegetables
Brushing teeth
If you have a private drinking water well that has been affected by flooding, you may need to disinfect your water supply and get your water tested.
Emergency Information
Dial 911 for Fire, Police, or Ambulance
Dial 2-1-1 for health and human services information
Dial 5-1-1 for Vermont road conditions
For food safety questions, call the Food & Lodging Program at 802-863-7221 or 800-439-8550 (toll-free in Vermont)