We are available to work with local employers to improve employee health and wellness. We can provide support and ideas on developing wellness teams and wellness policies. These policies may include:
Offering healthy foods at meetings
Allowing flex-time for physical activity
Creating breastfeeding friendly spaces
Creating smoke-free zones
Worksite wellness programs and policies can help adults lead healthy lives. Worksites that remove barriers to healthy food choices and physical activity help reduce chronic disease risk, support emotional and mental health and boost productivity for their employees. Investing in worksite wellness programs can help curb health care costs and have other financial benefits for employers. Check out our  worksite wellness toolkit
 for some ideas on how to jumpstart your employee wellness program.
Grant Opportunities
Find out if we have any open grant opportunities!
Working Toward Wellness Grant – focused on physical activity and nutrition 
Green Thumbs Grant – to help develop a worksite garden
Supporting Nursing Moms at Work Grant – to help employers support breastfeeding moms by creating a breastfeeding friendly space
Local Grantees
Physical Activity & Nutrition
2015 Working Towards Wellness Grant Recipient - Lamoille Restorative Center established a wellness committee and completed an employee interest survey. Those survey results drove the next steps and as a team they were able to complete the following: 
Smoothie Bar Wellness Kickoff Party
Healthy Options at Meetings Protocol
Provide on-site healthy snack options
Bought a new refrigerator for safe storage of those healthy snacks
Team wellness challenges
Worksite Garden
2014 Green Thumbs Grant Recipient - Heartbeet Lifesharing
2016 Green Thumbs Grant Recipient - Abel's Homestead Design, LLC
2016 Green Thumbs Grant Recipient - Morristown After School Program 
2016 Green Thumbs Grant Recipient - Lamoille Restorative Center –After receiving the Working Towards Wellness Grant, one of their initial goals was to create a company garden. Shortly after, this grant opportunity came up and it was perfect timing!
Breastfeeding
2015 Supporting Nursing Moms at Work Grant Recipient – The Town of Hardwick received the Breastfeeding Friendly Employer grant in 2015. They did a great job turning their space into a bright, light-filled new breakroom with a refrigerator and new flooring with a dual purpose as a private lactation space.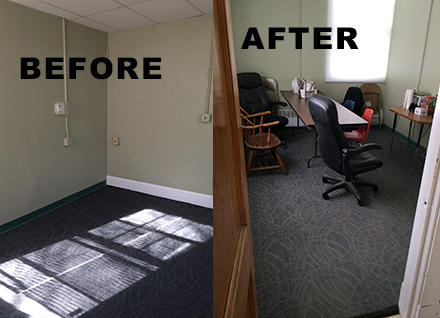 Related Resources
Easy Steps to Creating a Healthy Workplace
Learn More
Contact Us