We develop and maintain relationships with community organizations and health providers to improve health outcomes for pregnant and postpartum women and children. To do this we:
Provide education and technical assistance to childcare networks on topics such as tick bite prevention, signs and symptoms of heat exhaustion, immunization documentation, nutrition and emergency preparedness.
Participate in the Community Coordinated Response Team focusing on domestic violence prevention and awareness led by the Clarina Howard Nichols Center.
Coordinate the Maternal Child Health Coalition of Lamoille Valley which focuses on:

Improving the health and well-being of women, children and families in the Lamoille Valley.
Breastfeeding promotion in our community.
Managing the Lamoille Valley Community Response Team, which collaborates with the "Close to Home" program to support high-risk pregnant women and ensure they receive the services and support they need.

Connect with medical providers to promote statewide public health messages like:
Promote public health programming such as WIC.
Serve on and make referrals to the Children's Integrated Services team, dedicated to protecting the health and safety of children and families. 
Share best practices and resources within the community to support pregnant and postpartum women and their children. We partner with Nurse Family Partnership by referring women pregnant for the first time.
Regularly review and share data with community partners.
Collaborate with partner organizations such as Building Bright Futures, to create systems to improve access to care.
Breastfeeding Friendly Employers
Our local health office also supports breastfeeding in the community. We do this by collaborating with workplaces to make them more accessible to breastfeeding moms. For example, through a Breastfeeding Friendly Employers grant, local employers were able to create private lactation spaces within their organizations.
Contact Wendy, at 802-888-1353 if you would like to become a Breastfeeding Friendly Employer.
Local Breastfeeding Friendly Employer Grant Recipient
The Town of Hardwick received the Breastfeeding Friendly Employer grant in 2015. They did a great job turning their space into a bright, light-filled new breakroom with a refrigerator and new flooring with a dual purpose as a private lactation space.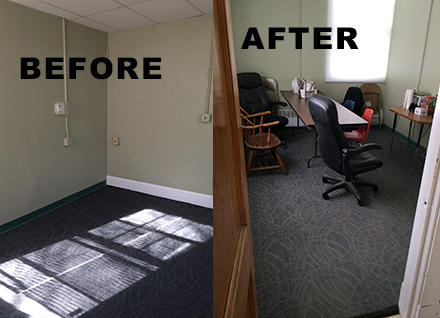 Local Breastfeeding Friendly Employers
See Local Breastfeeding Friendly Employers
Related Resources
Learn More
Contact Us
Wendy, Public Health Nurse
802-888-1353