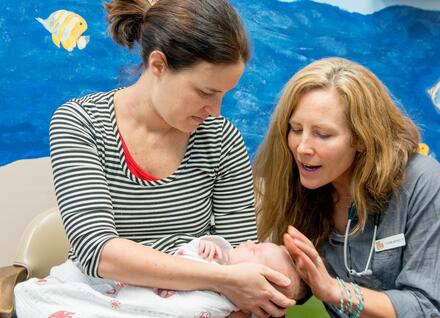 We develop and maintain relationships with community organizations and health providers to improve health outcomes for pregnant and postpartum women and their children. Through community partner relationships and collaborations, we are able to work together to address the needs of central Vermont families. These needs may range from access to food and housing, to support as individuals find safety in relationships, or to treatment for substance use issues. Providing support for families includes education to enable self-sufficiency and access to all available community resources. 
Central Vermont Community Resource Team
This team is a community partner collaboration working to improve the resources available to women in substance use treatment. It includes staff members from Family Services, Probation & Parole, Economic Services, Central Vermont Home Health and Hospice, the Family Center, treatment centers, Central Vermont Medical Center, the Department of Health and Washington County Mental Health. These connections and wrap-around support services enable women to raise their children and find employment while following a substance treatment plan to regain control of their lives. Educating the community and enriching the collaboration between multiple community partners improves the potential for success of women in treatment. 
Breastfeeding Coalition of Central Vermont
The Breastfeeding Coalition of Central Vermont is a partnership between our local health office and community partners such as Central Vermont Home Health and Hospice, Blue Cross Blue Shield, Central Vermont Medical Center, Good Beginnings, and WIC. This coalition provides information to the community through:
breastfeeding awareness
prenatal breastfeeding classes
educational resources for partners and families to support breastfeeding
information to employers so women can return to work and continue to breastfeed.   
Breastfeeding Friendly Employers
Our local health office also supports breastfeeding in the community. We collaborate with workplaces to make them more accessible to breastfeeding moms. Through things like a Breastfeeding Friendly Employers grant, local employers are able to create private lactation spaces within their workplaces.
Contact Deborah at 802-476-0155 if you would like to become a Breastfeeding Friendly Employer.
Local Grant Recipients
2016 – Hunger Mountain Coop and Union Elementary School in Montpelier
2015 – The Aldrich Public Library
Learn More
Children, Youth & Families in Vermont
Children with Special Health Needs
Related Resources
The Family Center of Washington County
Good Beginnings of Central Vermont
March of Dimes
Prevent Child Abuse Vermont
Vermont 2-1-1
Child Passenger Safety
Contact Us
Debbie, Public Health Nurse
802-476-0155