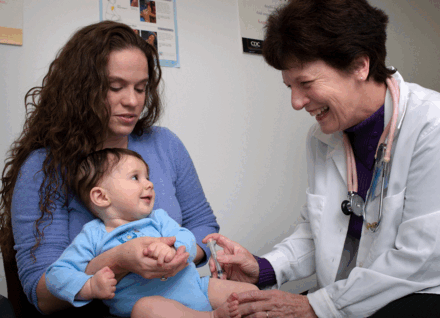 This page serves as a resource for provider offices enrolled in Vermont's Vaccines for Children (VFC) and Vaccine for Adults (VFA) programs. Providers share stewardship with the Vermont Department of Health Immunization Program of vaccine purchased through these programs. In order to protect against loss as well as fraud and abuse, proper vaccine inventory management is essential for all enrolled providers. Therefore, the ordering process requires a full accounting of state-provided doses. Concurrent with each order, provider office staff must:
1. Gain access, confirm vaccine contact, shipping hours and address
If access or changes need to be made contact the Immunization Program.
2. Document any Vaccine Transfers and Inventory Adjustments (Waste and Expiration)
Transfer:
The redistribution of viable vaccine to and from other provider offices. Regular transport of vaccines is discouraged. Proper management of vaccine plays a major role in preventing the need to transport vaccines. VFC/VFA enrolled providers needing to transfer vaccines must contact and receive approval from the Immunization program before attempting to transfer any vaccines. Vaccine transfer requests are approved on a case by case basis. Guidelines for transporting vaccine can be found in the Vermont Department of Health Vaccine Management Plan.
Transfers must be documented before submitting the next order.
Types of Inventory Adjustment:
Vaccine Return: expired or non-viable unopened vaccine to be sent back to the distributor
Sometimes providers order vaccine and are not able to use all of the doses before they expire. Providers must notify the Health Department if vaccine that will expire within 90 days (three months) cannot be used.
All expired vaccine should be removed from refrigeration units and marked "Do Not Use" to prevent inadvertent administration.
Wastage: an expired open multi-dose vial or non-viable vaccine with the cap removed. These cannot be returned to the distributor.
3. Report all Doses Administered, by NDC, in the preceding order period.
Tool available to assist with reporting are posted online.
4. Update physical Inventory on Hand, by lot number and NDC, to reflect the count of all viable state-provided vaccines on site.
Use NDC numbers printed on the box and not the vial.
5. Submit refrigerator and, if applicable, freezer Temperature Logs for preceding ordering period.
State provided paper temperature logs are completed by provider office staff and are submitted for the time period between vaccine orders.
6. Order Vaccines
Each provider must order vaccine based on the actual vaccine need, as determined by their eligible patient population(s). Stockpiling or buildup of excess vaccine inventory is not allowed. Each provider must be able to distinguish between state supplied and privately purchased vaccine stocks.
Coming in 2017
Development of the Vermont Vaccine Inventory Management System (VIMS) is underway. VIMS will be accessed through the Vermont Immunization Registry (IMR). This will replace VTrckS as the means for VFC and VFA enrolled providers to manage their inventory and place vaccine orders. The VIMS project meets a need expressed by providers, and moves Vermont closer to the national standard of using the IMR for all vaccine management processes.
Once the system is developed and tested, each provider will be assigned an enrollment period, access information and training materials. The Immunization Program will offer support throughout the transition. Training materials and updates will be available on this page as well.