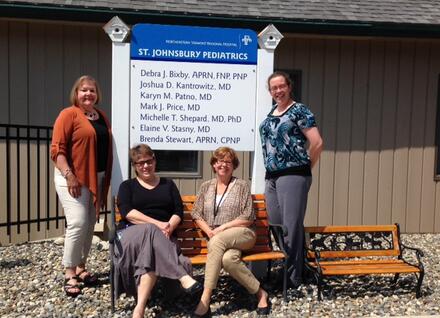 AFIX - Assessment, Feedback, Incentives and eXchange is a CDC quality improvement program using evidence-based strategies to increase the numbers of fully immunized people to prevent illness. Public health nurses working for the immunization program are employed at local Vermont Department of Health offices. When AFIX is scheduled, the public health nurse assesses coverage rates for selected vaccinations recommended by age 2 and during adolescence.
Practices self-assess office vaccination processes using a CDC questionnaire of evidence-based strategies.  During this one-hour discussion, the public health nurse shares the practice's immunization rates, facilitates staff review of evidence-based strategies, and supports development of achievable plans that staff will implement in the next few months. Incentives are offered to motivate and assist with the strategies selected. A follow-up information eXchange is scheduled three to six months later. At that point the practice staff review updated immunization coverage rates and assess their progress. Participation in the AFIX process has been shown to increase vaccination coverage.
AFIX can be used to meet health care reform indicators
Current health care reform efforts measure a practice's ability to meet specified indicators. Practices can use AFIX to monitor practice-specific immunization rates and get support to implement evidence-based strategies to improve rates in a short period of time.
Vermont Immunization Champion
CDC and the CDC Foundation honor
Immunization Champions
from each of the 50 U.S. states each year. Vermont's 2016 CDC Childhood Immunization Champion is Mary Helen Bayerle, RN. At the UVMMC-Family Medicine clinic in Berlin, Mary Helen has been instrumental in educating staff regarding immunizations, and working with the team to implement strategies that will help increase childhood immunization levels.
Health Care Practice Recognition
Childhood immunization coverage - Met the Healthy People 2020 (HP2020) target of 80% for full series coverage (includes ≥4 DTaP, ≥3 Polio, ≥1 measles containing vaccine, Hib full series, ≥3 Hepatitis B, ≥1 Varicella and ≥ 4 Pneumococcal Conjugate vaccines)
Green Mountain Pediatrics
Newbury Health Clinic
UVMHN Pediatric Primary Care Barre
Brookside Pediatrics
Hagan, Rinehart and Connolly
Teen immunization coverage - Met the HP2020 target of 80% for Tdap vaccine and MCV vaccines and reached 60% progress toward the HP2020 target of 80% for ≥ 3 HPV vaccine
Green Mountain Pediatrics
Newbury Health Clinic
Resources
The Community Guide is a website that houses the official collection of all Community Preventive Services Task Force (Task Force) findings and the systematic reviews on which they are based.The Community Guide is a credible resource with many uses because it is based on a scientific systematic review process and answers questions critical to almost everyone interested in community health and wellbeing.