What can you do about prediabetes and diabetes?
If you have prediabetes, you can prevent or delay Type 2 diabetes. Don't wait until you develop diabetes. You can take action right away to help prevent prediabetes from becoming Type 2 diabetes. You can also reduce the risk of heart attack and stroke associated with prediabetes. If you already have Type 2 diabetes, you can manage it and avoid other related health problems.
Talk to the members of your health care team, including diabetes educators. They can help you eat healthy, be more physically active, take your medicines, and get the support you need to manage it all.
Manage High Blood Sugar– Your body changes much of the food you eat into sugar, also called glucose. Glucose is your body's major source of energy.
Diabetes causes high blood sugar that can damage blood vessels and nerves. Problems from high blood sugar include heart disease, kidney disease, blindness and pain, or sometimes loss of feeling in feet and legs. A stable blood sugar level is the goal. People who manage their diabetes and keep blood sugar and blood pressure under control prevent or delay these health problems
Quit Smoking – Smoking has more severe effects for people who have diabetes. Quitting has almost immediate health benefits. When you decide to quit, visit 802 Quits.org. These free services can help you find success. Best of all, through 802Quits you can get free nicotine replacement—gum, patches or lozenges—shipped right to your door (while supplies last), as well as a number of online tools and supports.
Bill's Story – A person with diabetes, Bill shares his emotional story of how the complications caused by smoking affected him and his family.
Tools & Print Resources for You and Your Family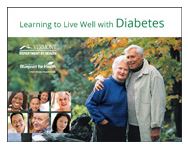 Learning to Live Well with Diabetes
This is a detailed resource to help you learn how to meet your blood sugar goals and how to prevent health problems. To order a printed copy call during business hours: 1-866-331-5622 (toll free) or 802-863-7330.  
Dietary Approaches to Stop Hypertension
This eating plan for controlling blood pressure is also a good basic weight control eating plan for type 2 diabetes or prediabetes.
Guide for Diabetes Care
This single page helps people living with diabetes and their medical providers get on the same page. It provides a summary of recommendations for treatment at medical provider office visits, a review of lab reports, and self-management responsibilities.
Helpful Websites
American Diabetes Association
Offers helpful resources with tips about food and fitness, medications, and other diabetes related topics.
Diabetes HealthSense
The National Diabetes Education Program has videos that help people manage diabetes and other helpful resources.
Helping Yourself to Health
Free workshops to help you prevent or manage diabetes. 
Vermont 2-1-1
Knows about community resources for everyday needs and difficult times. To call, dial 211.
Mobile Apps
Glucose Buddy
Free web-based diabetes software for tracking blood sugars and medications.
My Fitness Pal
Free software for tracking diet and exercise.
Contact Us
Vermont Diabetes Prevention and Control
TEL: 866-331-5622 (toll free) or 802-863-7330
FAX:  802-651-1634
Diabetes Program Administrator
Vermont Department of Health
108 Cherry Street, PO Box 70
Burlington, VT 05402-0070