The Morrisville Local Health Office connects tobacco prevention and quit partners with schools and community organizations throughout the area. We are your local connection to the statewide 802Quits program and resources. If you have questions about smoke-free housing, tobacco-related town zoning and policies, or how to make your business or medical campus smoke-free, contact us and we can help you reach your goals.
Local Highlight
Healthy Lamoille Valley is an organization of community members whose mission is to change community norms through collaboration with diverse community partners to reduce tobacco use and exposure, prevent youth substance abuse, to reduce substance abuse overall and to support healthy personal choices.
Lamoille County Mental Health Services (LCMHS) is a tobacco-free champion in our area. On July 1, 2015, LCMHS implemented their smoke-free campus policy. Vermont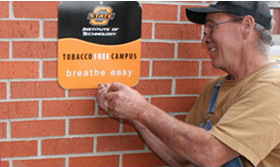 Department of Health's 802Quits was instrumental in assisting all employees and consumers in meeting this policy.
Resources for Quitting 
1-800-QUIT-NOW (784-8669)
free gum, patches and lozenges
online help
in-person help
help by phone
help quitting on your own
Related Resources
Learn More
Tobacco Use in Vermont
Alcohol, Tobacco and Other Drugs – Vermont Community Profiles
Contact Us 
Valerie, Public Health Nurse