Vermont's statewide Multi-drug Resistant Organism (MDRO) Collaborative brings hospitals and long-term care facilities (LTCFs) together to reduce the transmission of MDROs between healthcare facilities. Read about the MDRO Collaborative in this Centers for Disease Control and Prevention (CDC) Safe Healthcare Blog post by State Epidemiologist Patsy Kelso, PhD or in this 2012 Health Department Infectious Disease Bulletin article
Sign up for the MDRO Collaborative
The CDC's NHSN is the most widely used healthcare-associated infection tracking system. It provides healthcare facilities, states, and the CDC with data needed to identify problem areas, measure progress of prevention efforts, and ultimately eliminate healthcare-associated infections.
Be Antibiotics Aware
Be Antibiotics Aware is a CDC campaign focused on improving prescribing practices in inpatient healthcare facilities.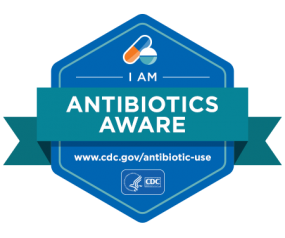 According to CDC, "Antibiotics save lives but any time antibiotics are used, they can cause side effects and lead to antibiotic resistance. At least 80 million antibiotic prescriptions each year are unnecessary, which makes improving antibiotic prescribing and use a national priority."
The Infection Control and Assessment and Response (ICAR) Program was developed by CDC to help identify infection control needs and improve infection prevention programs across the country. ICARs provide non-punitive, confidential, facility-specific infection control advice from CDC to help facilities improve their programs. Please contact Carol Wood-Koob to schedule a voluntary ICAR at your facility.