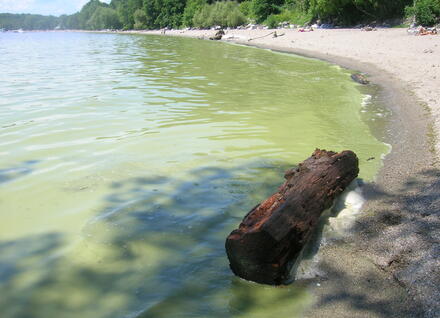 Cyanobacteria, also known as blue-green algae, are a common and natural part of the microscopic plants (plankton) in Lake Champlain and other Vermont waters. Some types of cyanobacteria can release natural toxins or poisons (called cyanotoxins) into the water, especially when they die and break down.
Cyanobacteria can grow quickly during warm months in lakes and ponds with excess nutrients like phosphorus and nitrogen. Cyanobacteria blooms are most common on calm, sunny days between June and September. In recent years, cyanobacteria blooms have occurred most often in northern sections of Lake Champlain—such as St. Albans Bay and Mississquoi Bay. See examples of what cyanobacteria blooms look like and what are not cyanobacteria blooms. Learn more about lake conditions.
To Report a Cyanobacteria (Blue-Green Algae) Bloom:
Call: 800-439-8550 7:45 a.m. to 4:30 p.m. Monday through Friday (except state holidays)
Email: AHS.VDHBlueGreenAlgae@vermont.gov after hours, weekends, and state holidays
You can include digital photos of the suspected bloom. If possible, include a detailed description of the bloom's location, or mark the bloom location using an image from an online mapping application such as Google, Bing, or Yahoo Maps.
health effects of exposure to cyanobacteria
Swimming or wading in water with cyanobacteria may cause minor skin rashes, sore throats, diarrhea, stomach problems, or more serious health problems. Children and pets are at higher risk of exposure because they are more likely to play near the shoreline and drink water while swimming. Pets can also lick and swallow cyanobacteria that may be caught in their fur.
The Health Department partners with other state agencies, environmental organizations, recreational site managers, town health officers, drinking water system operators, and hundreds of volunteers to monitor cyanobacteria blooms each summer and test affected waters for cyanotoxins.
If you believe that someone has become sick because of exposure to cyanobacteria, get medical attention and call the Health Department at 800-439-8550.
Laboratory tests of water samples can confirm if a bloom is toxic. Learn more from the Vermont Watershed Management Division.
Download or print the Cyanobacteria Fact Sheet or What Veterinarians Should Know.
Guidance for Vermont Communities
Cyanobacteria blooms are expected to continue to increase in the coming years due to climate change and more nutrients—nitrogen and phosphorus—running off into waterways. Lakes and ponds previously not impacted by blooms may experience blooms. The Health Department offers the Cyanobacteria Guidance for Vermont Communities as a tool and reference guide for communities experiencing cyanobacteria blooms. This guide is intended for lakes and ponds with new or sporadic appearances of blooms. It is not appropriate for guidance in heavily impacted areas. This guide is not a regulatory guide, a prevention manual, nor a practice for public water system operation.
Vermont cyanobacteria (blue-green algae) tracker map
The Vermont Tracking portal brings together in one place environmental and public health data to help us better understand how environmental hazards can contribute to certain illnesses. Vermont Tracking also supplies data to the National Tracking Network to address local environmental public health concerns.
The Vermont Tracking portal includes a map of reported cyanobacteria blooms. The Cyanobacteria Tracker allows the public to check the recent cyanobacteria reports at shoreline sites and recreational swimming areas of Lake Champlain and various inland lakes in Vermont. At many sites, observations are made weekly from early June to early October. Sites are identified as "Generally Safe" or indicated as having cyanobacteria presence with "Low Alert" or "High Alert."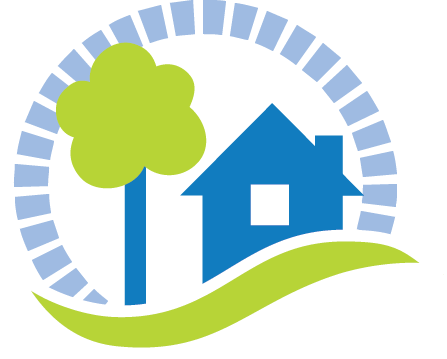 Check the Cyanobacteria Tracker Map
Cyanobacteria and Neurological Diseases
Amyotrophic lateral sclerosis (ALS), sometimes called Lou Gehrig's disease, is a devastating disease with no known cause. Only 5 to 10 percent of people with ALS have a family history (i.e. genetic cause) of the disease.
BMAA is an amino acid produced by some cyanobacteria. Researchers are testing the hypothesis of a link between BMAA exposure and ALS. This research is very preliminary and has not been proven. The Health Department will continue to review information as it becomes available.