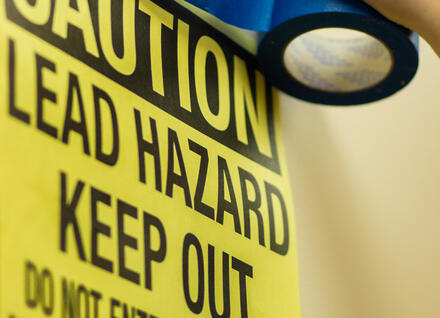 Thinking about renovating your home? If you are a do-it-yourselfer or hiring a professional, there are some health precautions you should know about before you begin a renovation project.
Exposure to asbestos and lead can cause serious health problems. To protect the health of Vermont families, there are both state and federal laws that set rules for how renovation work needs to be done. These laws are designed to prevent and lessen exposure to asbestos and lead while working on your home.
Asbestos in Building Materials
Asbestos is a mineral fiber that has been used in building construction materials for insulation and as a fire retardant. Asbestos fibers can be breathed in when any material that contains asbestos is disturbed or damaged in a way that creates dust. Exposure to asbestos fibers increases the risk of developing lung cancer, mesothelioma and asbestosis.
You should assume that asbestos-containing materials are in your home. They are not dangerous unless they are damaged or disturbed in a way that creates dust. Asbestos fibers may get into the air during renovation or demolition if the asbestos-containing materials are not handled in the right way.
Go to the Homeowners section on the Asbestos for Property Owners page for information on how to handle asbestos-containing materials.
Lead-Safe Work Practices: Renovating, Repairing and Painting a Pre-1978 Home
Lead is a highly toxic metal that has been commonly used in many household, industrial and automobile products—such as paint, solder, batteries, brass, car radiators, bullets, pottery, etc. Too much lead in the body, or lead poisoning, can cause serious and permanent health problems. Children and pregnant women are at special risk. The major source of lead poisoning in Vermont children is lead dust from chipping or peeling lead-based paint, but there are many other lead hazards. Lead poisoning can be prevented when you know what danger signs and hazards to look for in your home or in other places. Learn about lead hazards and lead poisoning
In 1978, lead was banned from house paint by the Consumer Product Safety Commission. About 70% of Vermont homes were built before 1978 and likely contain lead-based paint. Because of this, there are both federal and state laws in place to protect children and families from lead hazards. The Environmental Protection Agency (EPA) law regarding work done on pre-1978 homes is known as the Lead Renovation, Repair and Painting Rule (RRP Rule). Vermont's law is known as the Vermont Lead Law (18 VSA Chapter 38).
Children, pregnant women and adults can be exposed to lead during renovation projects or whenever lead-based paint is improperly sanded, scraped or burned. There are two main ways these activities cause exposure to lead. One is from breathing in lead dust. The other is from swallowing lead dust if it gets on a person's hands and then in their mouth. This usually happens when eating, drinking or smoking. Follow lead-safe work practices to reduce exposure to lead
if you are Hiring a Contractor
If you hire a contractor to work on your pre-1978 home, both the RRP Rule and the Vermont Lead Law must be followed. The RRP Rule requires firms to be certified by the EPA and to follow lead-safe work practices when renovation, repair or painting projects disturb lead-based paint in pre-1978 homes. The Vermont Lead Law bans certain work practices and requires lead-safe work practices when disturbing more than 1 square foot of paint in pre-1978 homes. Find out more about what you are required to do
The EPA Lead-Safe Certified contractor is required by federal law to provide you with EPA's Renovate Right Guide. This guide tells you how to protect yourself and your family from exposure to lead exposure during the project. Find an EPA Lead-Safe Certified firm
If you are a landlord, Vermont law requires you to follow Essential Maintenance Practices (EMPs). Find out what you need to do
if you are doing the work yourself
If you are a do-it-yourselfer who is renovating, repairing or painting your pre-1978 home, be sure to use lead-safe work practices. The Vermont Lead Law and the EPA's RRP training and certification requirements only apply to contractors but learning them would help you if you choose to do your own work. The training can provide you with a deeper understanding of how lead-safe work practices can protect against lead hazards and lead poisoning risks.
Unsafe work practices that disturb lead-based paint will create lead hazards (see Section 2.2.28). Creation of lead hazards in any kind of building or structure will result in compliance and enforcement proceedings and may cause a lead cleanup project that will require you to hire a Vermont-licensed lead abatement contractor.
Go to the Residential Property Owners section on the Lead for Property Owners page for more information.
Here are some helpful resources: