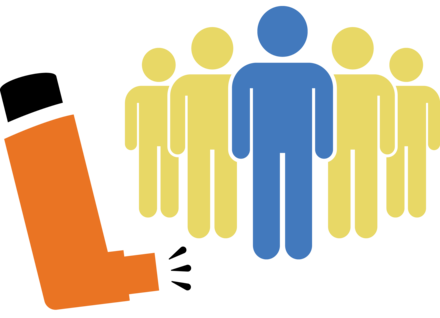 Climate change is expected to increase allergenic pollen in the air we breathe, increase mold growth in homes and businesses, and could increase air pollution from sources like wildfire smoke. The prevalence of asthma among Vermont adults increased by about 50% between 2000 and 2010. Adult asthma prevalence in Vermont has been significantly higher than the national rate since 2007, and was the 7th highest in the U.S. in 2013. About 57,000 adult Vermonters and 9,600 children report having asthma. Because pollen also affects many Vermonters who do not have asthma, further increases in allergy triggers could have widespread respiratory impacts to Vermonters.
Pollen and Allergies
Climate change is lengthening the growing season in Vermont, a change that may also extend the length of the pollen allergy season. Recent research from the Midwest reported that the ragweed pollen season has increased by over two weeks since 1995 in northern states. The longer growing season, combined with increased plant growth due to higher levels of carbon dioxide in the air, is likely to increase the allergenic pollen in the air we breathe. Further increases in allergy triggers could result in widespread respiratory impacts to Vermonters.
Mold in Buildings
Increased humidity and occasional flooding will likely also lead to increased problems with mold growth in buildings. Damp and moldy conditions in buildings can trigger allergic reactions, asthma attacks, or other health problems.
Air Pollution and Wildfire Smoke
Climate change impacts on air pollution and wildfire smoke in Vermont are less certain. Air quality is generally expected to improve as more states replace fossil fuels with clean energy sources (wind, solar, and hydro (water)) and motor vehicles continue to get cleaner and more efficient. Air pollution may still be a problem at certain times of the year, or when winds blow in pollutants from nearby urbanized areas. For example, ozone formation is worst on the hottest days of the year, while fine particulate matter from wood burning is worst on the coldest days, especially in some mountain valleys. Both pollutants have impacts on respiratory and cardiovascular health. The World Health Organization estimates that around the world, nearly 4 million people die prematurely each year from outdoor air pollution.
Wildfire smoke could become worse if Vermont begins experiencing more droughts, which may contribute to more local wildfires, or if winds blow wildfire smoke from more fire-prone parts of the U.S. or Canada toward Vermont. Wildfire smoke can have impacts on respiratory and cardiovascular health.
Monitor and reduce risks from mold growth
Monitor and reduce risks from air pollution and wildfire smoke