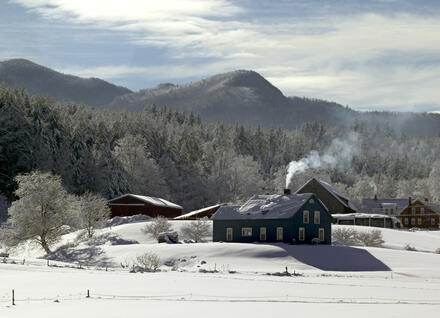 Along with the cold, snow and ice, winter weather can affect your health. The cold can cause frostbite or hypothermia and can contribute to heart attacks when shoveling snow. Icy conditions can cause slips and falls when walking and crashes while driving. Plus, climate change is causing lake ice to thin, which can result in hypothermia and drowning from falling through the ice. Improper burning of heat sources can cause poor indoor air quality and carbon monoxide poisioning. Be sure to stay safe and warm this winter.
Winter Storms and Power Outages
During a winter storm, it can be cold, windy and snowy. A winter storm can last from a few hours to several days. Listen to the news for information, and stay at home if you can. If you have to drive, be careful. Drive slowly and brake gently on snowy and icy roads. Visit the Vermont Agency of Transportation's Winter Weather Central web page for up-to-date road and travel information. And be prepared in case the power goes out.
See more winter weather safety tips
If the power goes out during a winter storm, you may be without power for a few hours or several days after the storm. Be prepared.
Make sure you have enough food and water.
Keep your refrigerator and freezer closed to keep food cold.
Have flashlights ready and extra batteries.
Charge your cell phone fully.
Carbon Monoxide Poisoning from Fuel Burning
Carbon monoxide is a poisonous gas with no smell or color. You can die from carbon monoxide poisoning. It is produced whenever a fuel (including gas, oil, coal and wood) is burned for heating, cooking, powering an appliance or powering a motor vehicle. Any fuel-powered equipment that is used inside must be properly vented outside.
In Vermont, winter is an especially risky time for carbon monoxide poisoning, when buildings are closed up tight. If you lose power, never run a generator, grill, camp stove or similar equipment indoors. Be sure to clear any snow away from vents of fuel-burning equipment so they don't get blocked. And never leave a vehicle running inside a garage, even if the door is open.
Install at least one carbon monoxide detector on each level of your home and test it regularly. When you change your clocks in the spring and fall, that's also a good time to change the batteries in your smoke and carbon monoxide detectors. Symptoms of carbon monoxide poisoning are feeling dizzy, light-headed, or nauseated. If the alarm on your carbon monoxide detector is going off, or if you suspect carbon monoxide poisoning, go outside immediately, then call 9-1-1.
Follow these tips to stay safe from carbon monoxide poisoning
Frostbite and Hypothermia
Frostbite happens when a part of your body is injured from freezing. It causes a loss of feeling and color in affected areas. People usually get frostbite on their nose, ears, cheeks, chin, fingers or toes. Because frostbite causes tissue numbness, it is often hard to tell that it is even happening. Frostbite can cause permanent damage, and severe cases can lead to amputation.
Hypothermia happens when your body temperature is abnormally low. It is caused by being in very cold temperatures for an extended period of time, and can occur at milder temperatures if you are wet. When you are in cold temperatures, your body begins to lose heat faster than it's produced. Lengthy cold exposure can start to affect the brain, making it hard to think clearly or move well. This makes hypothermia especially dangerous, because you may not know it's happening and won't be able to do anything about it.
Covering your skin, dressing in layers, staying dry, and limiting your time outside are all ways to help prevent frostbite and hypothermia. Older adults and young children, people that spend a lot of time outdoors, and people with conditions that make it harder to regulate their body temperature are at highest risk.
Shoveling and Heart Attacks
Although it may not seem like a typical workout, shoveling snow can be strenuous. The cold weather combined with the physical exertion of shoveling can stress your heart and cause a heart attack. About 100 people die in the U.S. each year while shoveling snow. Older adults, individuals with pre-existing heart conditions, and people that are usually sedentary, are all at higher risk for a heart attack while shoveling snow.
Housing and Fuel Assistance
Wood Stoves and Your Health
Wood provides a local, renewable and affordable heating fuel for many Vermonters. In fact, 38% of Vermont homes burn wood for heat, either as their main or second source of heat. Using an older stove or not burning wood properly can result in poor air quality both inside and outside your home, which can cause health problems. There are a few simple steps you can do to reduce air pollution, burn less wood and save money.
Thin Lake Ice
Warming temperatures due to climate change are making it less likely for ponds and lakes to be covered by ice. Even when there is cover, the ice is often thin and unstable. For 100 years (1851-1950), Lake Champlain completely froze over every year except for four. But recently, Lake Champlain has failed to freeze over in eight of the past 10 years!
A fall through ice can result in severe, or fatal, hypothermia or drowning. In fact, several Vermonters have died in recent years after falling through the ice while fishing, walking, snowmobiling or driving a vehicle over a lake or pond. Even if you have driven and walked over a frozen water body for many years, be sure to take caution and watch for thin ice.
Learn more about ice safety from the Minnesota Department of Natural Resources
Preventing Falls on Ice
Walking on ice is extremely dangerous. Many people get injured in the winter from falling on ice-covered sidewalks, steps, driveways and porches. Keep your steps and walkways as free of ice as possible by clearing snow before it has a chance to melt and re-freeze. If ice develops, you can help it melt by using rock salt or another chemical de-icing compound. You can also sprinkle sand or wood ash over the ice to lower the risk of slipping.