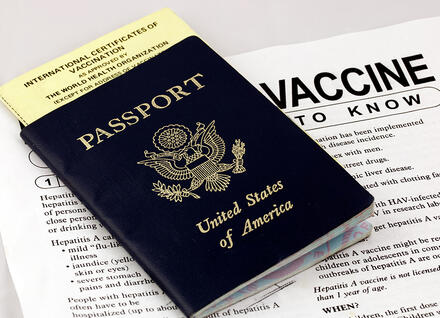 If you plan to travel outside the country, you may need immunizations to protect yourself against diseases that aren't common in the United States. For more information, visit the Centers for Disease Control and Prevention's Travelers' Health.
Travel Clinics
Don't wait – start planning early. Immunizations may require multiple injections and take weeks to reach full effectiveness. Make your appointment with a travel clinic as soon after you make your travel plans as possible.
If you are looking for clinics that can vaccinate you for travel outside of the United States, use the Vermont Travel Clinic Finder or the Centers for Disease Control and Prevention's listing of Yellow Fever Vaccination Clinics. These clinics can provide you with the vaccinations you need for travel, as well as Yellow Fever vaccinations if necessary.
The travel clinic located nearest you may be located in a state bordering Vermont.
Other Resources
If you wish to keep informed about current health issues related to specific destinations that require special considerations, visit the CDC Travel Notices.
CDC Health Information for International Travel (commonly called the Yellow Book) is published every two years as a reference for those who advise international travelers about health risks. The Yellow Book is written primarily for health professionals, but is a useful resource for anyone interested in healthy international travel.