Working Together to Improve Learning and Health in Schools
Many Vermont supervisory unions and school districts have created wellness teams to work on health related policies, procedures, programs, and activities. These teams are often modeled after the components of the Centers for Disease Control and Prevention's Coordinated School Health Model, or follow the tenants of the ASCD's Whole Child Framework. In 2014, the CDC and the Association for Supervision and Curriculum Development (ASCD) partnered to create the Whole School, Whole Community, Whole Child (WSCC) model.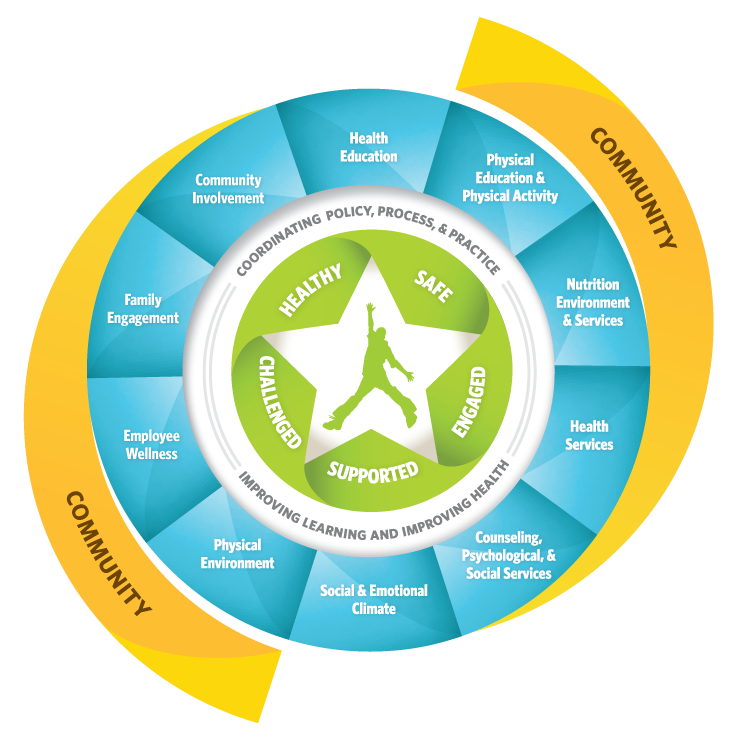 This enhanced model builds upon aspects of the CDC's familiar Coordinated School Health model and the Whole Child framework from the ASCD. The Whole School, Whole Community, Whole Child model:
Expands upon the eight domains of the Coordinated School Health model into the 10 domains shown in this graphic
Combines the Coordinated School Health model with the ASCD's Whole Child framework
Demonstrates integration of health and education to improve academic achievement
Promotes alignment, integration and collaboration between health and education in order to achieve improved cognitive, physical, social and emotional development
The Health Department is committed to promoting use of the Whole School, Whole Community, Whole Child model. This model can be used by school and community partners to improve population health and academic achievement outcomes through a collaborative approach with schools, communities, children and families.
We work closely with the Agency of Education in these efforts. We both recommend using this model to achieve goals outlined in school continuous improvement plans and wellness policies and integrating it into a multi-tiered system of supports.
Resources: The Whole School, Whole Community, Whole Child Model
Centers for Disease Control and Prevention 
ASCD
Journal of School Health
Equity Campaign 
Agency of Education