What is Help Me Grow?                                                                               
Help Me Grow is an effective, efficient system strategy for advancing developmental promotion, early detection and linkage to resources. Help Me Grow helps states implement universal developmental surveillance, screening and detection for all children through age eight, and then links families to existing community-based programs. Help Me Grow (HMG) proactively addresses families' concerns about their child's behavior, development and learning by making a connection to community-based programs, services and high quality parent education resources. Find more information on this innovative national network (24 states now including Vermont) at the Help Me Grow National Center.
The Help Me Grow Vermont system leverages existing resources, like Children's Integrated Services (CIS), to build collaboration across sectors of child health care, early care and education, and family support services. The Help Me Grow  Vermont system expands the reach of CIS through a "no wrong door" centralized telephone access entry point for all children and their families to link to community-based programs and services. With the Vermont Department of Health as the lead agency, our collaborating partners (described below) comprise four key system components.
Help Me Grow  Vermont System Components
Family & Community Outreach: Building Bright Futures State and Regional Councils connect families and providers to critical developmental resources and offer opportunities for networking and training.
Child Health Provider Outreach: Via a public-private partnership, the Vermont Child Health Improvement Program (VCHIP) and Vermont Birth to Five promote comprehensive developmental surveillance and screening training to early learning professionals. 
Centralized Phone Access Point: Vermont 2-1-1 is a program of the United Ways of Vermont with close connection to the Vermont Family Network. Vermont 2-1-1 offers interpretation services and Help Me Grow materials have been translated into nine languages.
Data Collection & Analysis: The Health Department's Universal Developmental Screening Registry and VCHIP provide data collection and analysis. The registry will provide a state-wide data collection system for screening results. 
Help Me Grow System Innovation
Mid-Level Developmental Assessment (MLDA) is a feasible and effective, evidence-based model for the timely assessment of children (ages 0-6 years) suspected to have developmental delay on the basis of surveillance and screening. Children with mild to moderate developmental and behavioral concerns are efficiently linked to programs and services, while facilitated access is coordinated for children with more severe delays to additional comprehensive assessment and services. After an initial pilot, the Health Department Child Development Clinic has adapted the MLDA model to accommodate clinic protocols. The MLDA-plus model supports streamlined assessment practices, well suited for statewide Child Development Clinics. With training and consultation from the Help Me Grow National Center, our MLDA pilot has spread to early educators. Essential early education programs have begun using the MLDA in order to support quality improvements in their current screening and assessment protocols.
Read the story of Help Me Grow  Vermont, view our report card, and view our Mid-Level Developmental Assessment outcome data at Early Childhood Screening Dashboard. Additional helpful resources include:
Additional Resources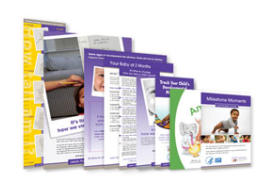 Celebrate milestones! From birth to 5 years, children should reach milestones in how they play, learn, speak, act and move. Every family looks forward to seeing a child's first smile, first step, and first words. Screenings help raise awareness of a child's development, making it easier to expect and celebrate developmental milestones. To learn more about this campaign to help every child reach his or her full potential and to order or print free materials, visit Learn the Signs. Act Early.
Find Vermont translations of the "Learn the Signs. Act Early." Milestone Brochure 
Watch Me! Celebrating Milestones and Sharing Concerns
Watch Me! is a free, one hour online training course approved for credit by Vermont Northern Lights. Early care and education providers play a critical role in the health and well-being of children in their care and their families. Watch Me! helps early care and education providers better identify and monitor developmental milestones; recognize signs of potential delays; and share observations with parents. This training offers tools and best practices to support professionals and help children reach their full potential.