public health data explorer
By clicking on a behavior or disease below, you can quickly see the impact of 3-4-50 in Vermont with the
Public Health Data Explorer
.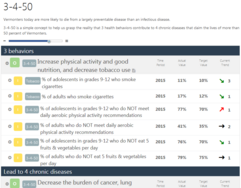 data briefs
cost of chronic disease in vermont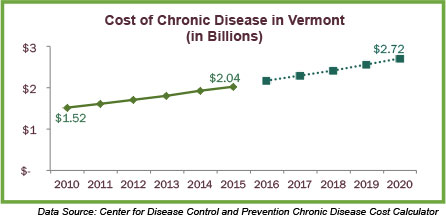 Chronic diseases affect the quality of life for Vermonters as well as Vermont's economic future.
Chronic diseases are projected to cost Vermont over $2 billion in health care costs this year alone.
Most chronic disease deaths are from the four diseases included in 3-4-50. The same three behaviors, lack of physical activity, poor diet, and tobacco use, can also make other chronic diseases worse including Alzheimer's, Parkinson's and liver disease.