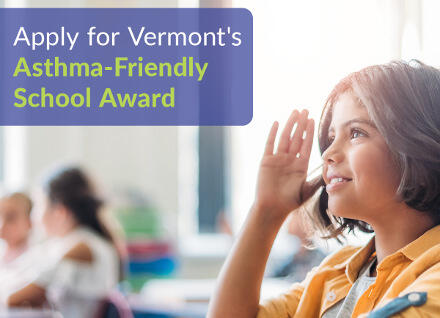 Asthma-friendly schools are ones that take a few easy steps to create environments that help students with asthma to grow, learn, and succeed, and prevent asthma attacks and missed school days.
We know that many schools have been active in creating asthma-friendly schools prior to COVID-19 and are looking for new ways as schools open. You could win this award for these efforts.
 
VERMONT'S ANNUAL ASTHMA-FRIENDLY SCHOOL AWARD
Do you work at or know of an asthma-friendly Vermont school or school district? Apply for the state's annual Asthma-Friendly School Award! This year's deadline to apply for the award is May 31, 2021.
For questions about the Asthma-Friendly School Award, please contact:
Alex Crimmin, American Lung Association
Alex.Crimmin@Lung.org, 802-876-6861
AWARD DETAILS
The Vermont Asthma Friendly School Program recognizes Local Education Agencies (LEAs) that demonstrate having implemented and enforced some of the asthma-friendly school practices and policies. Up to three LEAs will be given awards to continue with asthma initiatives and education. The award is up to $2,000 for first place with graduated amounts after. Winners will be notified in June.
Each best practice gets awarded points. These high-scoring criteria are each worth 100 points:
Many of your actions to make schools safe during COVID may contribute toward qualifying for an asthma-friendly award.
 
WHY APPLY?
The Vermont Asthma Friendly School Award is administered by the American Lung Association on behalf of the Vermont Department of Health's Asthma Program. Winning an Asthma-Friendly Schools award shows staff and other schools across Vermont that asthma-friendly policies and practices are a priority in your school. It also shows parents and guardians that health is taken seriously and valued, regardless of whether their children have asthma or not.

Improving air flow, replacing or upgrading HVAC equipment and using EPA approved cleaning supplies in response to COVID-19 can contribute, among other best practices to making school environments healthier, including for those students with asthma and other high-risk staff. Many of the actions schools have taken in recent months may also qualify them to win the Asthma Friendly Schools Award.
 
WHO CAN APPLY?
Any student, parent, or staff person (up to the superintendent) can apply for the award on behalf of their LEA by completing the online application—a brief survey identifying some of the best practices and policies that are in place, including having a tobacco-free campus, among other criteria.
 
PAST WINNERS
2020: White River Unified School District and St. Johnsbury School District
2019: Mt. Ascutney School District (special mention to State Street School in Windsor for their stand-out initiatives)
2018: Twin Valley School District, Addison Northwest School District, and Colchester School District
 
SUPPORTS TO HELP MAKE YOUR SCHOOL MORE ASTHMA-FRIENDLY
Check out the resources below to help make your school asthma-friendly. All of these are designed to help identify easy steps to improve conditions for students (and staff) with asthma.
ENVISION's Online Environmental Walkthrough Inspection Tool: This is one of the most valuable tools to see how well environmental health is handled at your school, and what steps can be made to improve it. The tool is also available in a printable version.
Also, The ENVISION Program provides model environmental health management plans, policies, and guidance to VT schools to help them address indoor air quality issues.
Vermont Department of Health's Healthy Schools Page: Steps to take (or to improve on) to become a healthy school, including Lead and Radon testing.
Vermont Department of Health's Asthma Program Pages: Other resources and information from the Health Department's Asthma Program.
Whole School, Whole Community, Whole Child (WSCC) Model: Guides how schools can be supported by Wellness Teams, the Agency of Education, and school staff to take simple steps across 10 domains of coordinated school health. The Vermont Department of Health has developed fact sheets that help schools address special topics, including asthma, across these domains to make school a healthy place for all children with asthma.