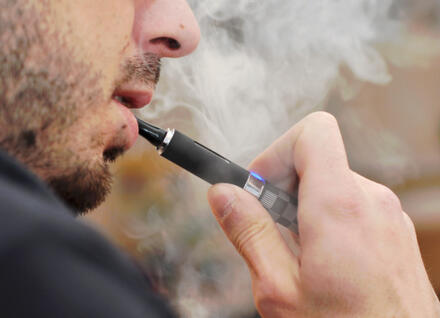 Overview
The Centers for Disease Control and Prevention (CDC), the Food and Drug Administration (FDA), and state and local health departments, including the Vermont Department of Health, are investigating a multistate outbreak of e-cigarette or vaping product use-associated lung injury (EVALI). The investigation is ongoing and a cause has not been identified, but all reported cases have a history of using e-cigarette products. Many patients report using e-cigarette products with liquids that contain cannabinoid products, such as tetrahydrocannabinol (THC). Get the most recent case counts and information from CDC.
What Vermonters Should Do to Stay Safe
Do not use e-cigarette or vaping products that contain THC.
Do not buy any type of e-cigarette or vaping products off the street, especially anything containing THC.
Do not modify or add any substances to e-cigarettes or vapes that are not intended by the manufacturer, including products purchased through retail establishments.
See a health care provider immediately if you develop symptoms associated with this outbreak and have recently used an e-cigarette or vaping product.
If you are an adult using vaping products to quit cigarette smoking, do not go back to smoking cigarettes. Use evidence-based treatments to quit.
Youth, young adults and people who are pregnant should never use e-cigarettes or vaping products.
What we know
All patients who have experienced these lung injuries reported using e-cigarette or vaping products.
Most patients report a history of using vaping products that contain THC.
The latest data from the nationwide investigation suggests that products containing THC play a major role in the outbreak.
What we don't know
We don't yet know what specific chemical exposure(s) are causing these lung injuries.
No single product or substance has been linked to all lung injury cases, and there may be more than one cause.
While most people who have gotten sick reported using products containing THC, we cannot exclude the possibility that nicotine may play a role.
get help quitting
People should immediately stop using products with THC, and should consider refraining from using nicotine-containing vaping products.
Young adults and teens can text "VtVapeFree" to 88709 to get help and support for quitting e-cigarettes and vaping.
If you need help quitting nicotine, including e-cigarettes, visit 802Quits.
If you want to stop using marijuana and need help, call 2-1-1 or go to healthvermont.gov/find-treatment to find treatment options near you.
vermont cases
Updated November 26, 2019. This information is updated monthly.
| REPORTS | CASES |
| --- | --- |
| Number investigated | 32 |
|      Confirmed | 3 |
|      Probable | 0 |
|      Pending classification | 0 |
|      Not a case | 29 |
Information for Health Care Professionals
Report possible cases to the Health Department. Report cases of significant respiratory injury of unclear etiology and a history of inhalational drug use (including vaping or smoking of any plant or chemical) in the 90 days prior to symptom onset to the Health Department at 802-863-7240 (available 24/7).
Ask all patients if they vape or use e-cigarettes. Encourage patients to stop using these products. If e-cigarette product use is suspected as a possible cause for a patient's lung disease, get a detailed history of the substances used, the sources, and the devices used as outlined in the CDC Health Advisory. 
For management of patients with suspected e-cigarette or vaping product use-associated lung injury, see CDC's interim treatment guidance or call the Poison Control Center at 1-800-222-1222.
Offer patients counseling and medication treatment. You can download the fax referral form or send one electronically during the apointment. Get more information on how to refer patients at 802Quits.
Resources
Find articles, MMWRs and other resources for health care providers from CDC
Vermont-specific Resources: