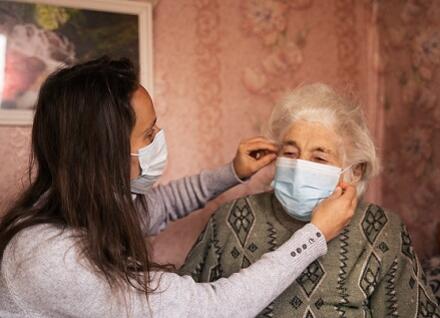 The Health Department works closely with the Department of Disabilities, Aging and Independent Living and long-term care facilities to help them prepare for cases of COVID-19. Other types of group living settings can follow strategies to detect and prevent the spread of respiratory viruses like the new coronavirus.
 

WHAT WE ARE DOING
Proactive Outreach
The Health Department has contacted all long-term care facilities, nursing homes, assisted living facilities, and senior housing facilities proactively to review strategies to prevent COVID-19 infection and develop plans to respond immediately if an infection is identified. We complete an in-depth assessment by phone and provide guidance about personal protective equipment and other infection prevention and control recommendations. We continue to stay in touch for any technical assistance needs and additional questions.
Rapid Response
If a case of COVID-19 is associated with a long​ term care facility, an epidemiology team is quickly activated. They contact the facility to provide recommendations and infection control support. The team begins contact tracing ­to determine the source of the infection and how it may be spreading. They ask questions and collect information to help identify anyone the patient had close contact with. The team communicates with close contacts to ensure isolation and quarantine guidelines are being followed, which will differ depending on the type of setting.
Universal Testing at Facilities
Vermont is taking additional measures to slow the spread of COVID-19 in certain types of group living facilities. This includes nursing homes, corrections facilities, residential homes for those with disabilities, residential treatment centers, assisted living facilities, state psychiatric care facilities, and homeless shelters. If a staff member or resident tests positive for COVID-19, universal testing of all staff and residents is offered at these facilities. Staff and residents may decline testing, and facilities may decline universal testing.
Additionally, when a person tests positive at a skilled nursing facility, sequential testing (additional testing on following days) is offered to those who tested negative during the universal testing. Any new admissions to nursing homes, assisted living residences and residential care homes must complete the full 14-day quarantine. 
All Department of Corrections staff will be tested in May 2020.
Guidance
Visitors
Starting June 19, facilities may offer limited visitation outside with residents. Facilities must create and follow a facility policy that includes minimum guidelines. Medically necessary personnel and visitors to residents who are receiving end-of-life care are allowed. Visitors should be screened before entry. Visitors' movements and interactions with people in the facility should be limited. They should frequently wash their hands. Read the Health Advisory from March 20, 2020.
Infection Control
The Health Department recommends that all health care personnel in long-term care facilities and other congregate settings where health care is provided wear face masks, regardless of the presence of COVID-19 in the facility. Any new admissions to nursing homes, assisted living residences, and residential care homes must complete the full 14-day quarantine period first. The CDC recommends to prevent the spread of COVID-19 in long-term care facilities are the same strategies these facilities use every day to detect and prevent the spread of other respiratory viruses like influenza.
Resources
Long-Term Care Facilities
Other Congregate or Group Living Facilities