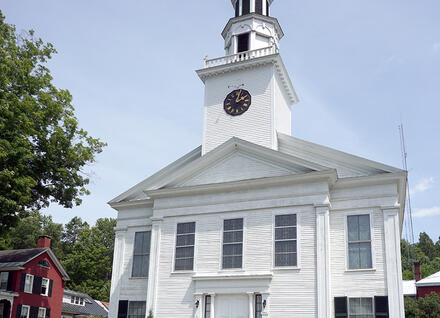 Vermont communities are continuing to adapt to the many changes needed to prevent the spread of COVID-19. Our efforts are making a difference, from the steps we all take ­– like wearing a mask and keeping a six-foot distance ­– to businesses protecting their employees and customers.
Communities
There are lots of options to support your fellow Vermonters, from donating blood and sewing face masks to providing transportation or groceries for a neighbor. If you need some extra help, please reach out and see what's available. Many of us need extra resources during this unusual time.
Resources for Food and Other Necessities
Housing - call Economic Services, Monday through Friday 8:00 a.m. - 4:30 p.m, at 1-802-479-6151. For help outside of these times, call 2-1-1.
Food resources - see Farmers to Families Food Box Program or contact Vermont Food Bank, Hunger Free Vermont, or 3SquaresVT.
Formula, diapers or other baby necessities - call 2-1-1 to connect with Help Me Grow-VT.
Food and breastfeeding support for income-eligible pregnant and postpartum individuals and infants and children up to 5 years, contact WIC.
Resources for Families with Children
Ways to Volunteer
People with medical or other health care, mental health or other clinical experience, health care administrative experience (translators, medical data entry), or who have experience working with displaced people can volunteer with Vermont's Medical Reserve Corps.
Learn how to join the Medical Reserve Corps
People with other needed skills (for example, drivers, food service, construction, IT, security, skilled trades, etc.) can sign up with the State of Vermont and help in communities across the state.
The American Red Cross of Northern New England faces a severe blood shortage and many local food banks and other community organizations are in need of support and donations of supplies.
Visit the American Red Cross to learn how to safely donate blood
The Red Cross is looking for people who are fully recovered from COVID-19 and may be able to donate plasma. If you are fully recovered from a COVID-19 diagnosis that was confirmed by a lab test and would like to donate your plasma, fill out this form. 
Support your local Food Bank. Donate online or text GIVEHEALTH to 85511. If you need help getting food, contact the Vermont Food Bank (link is external).
The State of Vermont accepts specific medical supply donations. Fill out 
You can look for ways to help your neighbors, especially older adults and at-risk people who need to stay home as much as possible. Offer to go shopping for them or keep them company by phone. When volunteering please follow neighborly best practices.
Workplaces and Employees
The Health Department has resources to help businesses operate safely. We offer guidance and assistance for both businesses and employees to keep employees and customers safe.
If you learn of a positive case at your business, contact the Health Department's Infectious Disease Epidemiology team. Call 802-863-7240 (Mon - Fri 7:45 a.m. - 4:30 p.m, choose Option 3, outside those hours, choose Option 7).
Steps for Employers if Someone Tests Postive
If someone was exposed to COVID-19 at your business, a team of infectious disease experts will work closely with you. They will make recommendations to keep your customers and employees safe. In most cases, when appropriate steps are taken quickly, there is no need to shut down your business. Here's what you need to do:
If an employee or customer tells you that they have tested positive for COVID-19, have them call the Health Department at 802-863-7240. Find out what you need to do if an employee tests positive

(link is external)

.
If you are contacted by the Health Department because a risk has been identified at your business, the team will walk you through the next steps.
If you believe your establishment has been exposed to COVID-19, please call the Health Department at 802-863-7240.
The team will follow up with everyone who tests positive, calculate the period of time when they were contagious, and find out what locations they visited during that time. The team works hard to determine which locations may have been at risk, based on their expertise and knowledge of how the virus spreads. You can learn more about the steps the Health Department takes(link is external)to quickly respond when someone tests positive.
Vermont businesses play a critical role in keeping employers, employees, and customers safe and healthy. Working together with the Health Department is the best way to lessen the risks and contain the spread of COVID-19.
Employers Can Help Prevent COVID-19
The Health Department encourages Vermont employers to help prevent the spread of COVID-19. To do this, employers should consider:
Supporting employees to stay home if they are sick or need isolate or quarantine.
Encouraging employees to stay 6 feet or 2 meters away from other people whenever possible, cover their coughs and sneezes, wash their hands or use hand sanitizer, and wear a mask. Find prevention resources here.
Allowing employees to work at home if possible.
Performing routine environmental cleaning.
The Health Department does not recommend:
Broad employee testing.
Requiring employees to test negative for COVID-19 is not recommended by the Health Department unless that person is hoping to test negative to end their quarantine period early.
Asking for proof of a negative test. The Health Department does not provide letters for employees to return to work.
Instead, employers should make decisions based on symptoms or time since a positive test. Read what do I do if my employee tests positive for COVID-19 to find out what return-to-work strategies the Health Department recommends.

Read the guidance for employees when a co-worker tests positive.
Also in: Arabic | Burmese | Chinese | French | Karen | Kirundi | Nepali | Somali | Spanish | Swahili | Vietnamese
Health Resources for Businesses
Food and Lodging Businesses
Employees
Employees with COVID-19 related concerns in the workplace can contact the Vermont Occupational Safety and Health Administration(link is external)(VOSHA). Employees can submit a safety complaint form on VOSHA's website (link is external)or call toll free at 1-800-287-2765.
The Health Department cannot provide documentation for people to go to work or to stay home. A negative test should not be required to return to work.
Talk with your health care provider to determine if:
your symptoms are due to COVID-19 or some other reason
you should or should not go to public places or work
If COVID-19 is suspected, your health care provider can refer you for testing. Stay home while you are waiting for your test results. If you test positive, a Health Department contact tracer will reach out to walk you through what to do next.
You will be advised to stay home from work and other activities until:
fever has resolved for at least 24 hours without the use of fever-reducing medications, and other symptoms (like cough or shortness of breath) have improved – AND –
at least 10 days have passed since symptoms first appeared.
If you are sick due to something other than COVID-19, you should stay out of work until:
you have been without fever for 24 hours without using fever-reducing medications (if you had a fever) – AND –
any other symptoms have resolved or are improving.
Resources
The Vermont Agency of Commerce and Community Development (ACCD) has the most up-to-date information for businesses impacted by COVID-19, including financial assistance, guidance for different business sectors, and unemployment information. The best way to make sure people in your workplace are protected against COVID-19 is to follow ACCD guidance.
Visit the ACCD COVID-19 Recovery Resource Center.
To prevent the spread of COVID-19, the Governor has ordered changes to businesses that affect employers and employees. Read the Governor's executive orders.