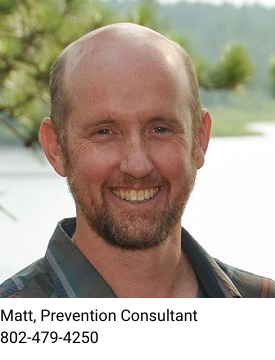 Matt is your Regional Substance Abuse Prevention Consultant. He works with community groups, schools, human service agencies, hospitals, law enforcement, parents and youth. The purppose of this work is to educate communities about the risks of alcohol and other drug use and to reduce misuse among youth, young adults and adults through:
Community organizing
Program planning and consultation
Presentations and training
Community grants information and guidance
Information and referral
Prevention Works!
Community Organization Focuses on Preventing Alcohol and other Drug Use
Central Vermont New Directions Coalition provides coordination of prevention partnerships in your community. These partnerships aim to reduce underage drinking, binge drinking, prescription drug misuse and marijuana use by promoting municipal policy changes, providing opportunities for education and providing referrals to local resources.
Below are the community partners in your area. Contact them to find out what they do and how you can get involved!
Community Partners
Central Vermont New Directions Coalition was established in 1998 to serve the needs of youth and families in Washington County towns. The coalition is a non-profit organization dedicated to making a difference in youth substance use in our community. With the help of community members and organizations we are able to successfully educate and inform all demographics within our community.
Turning Point Center of Central Vermont helps people find, maintain, and enhance their substance abuse recovery by providing peer-based recovery supports to individuals and families; conducting educational programs that aid in building and enriching a healthy life; and maintaining a safe haven for sober recreation and social activities.
Central Vermont Medical Center is the primary health care provider for 66,000 people who live and work in the 26 communities of central Vermont. It provides 24-hour emergency care, with a full spectrum of inpatient (licensed for 122 beds) and outpatient services. CVMC's professional staff includes over 200 physicians and 70 advanced practice providers representing 25 medical specialties.
Central Vermont Substance Abuse Services provides outpatient clinic support to people with a wide range of substance abuse and their families. We support adults and adolescents in the greater Washington County region.
Treatment Associates specializes in Medicated-Assisted Therapy (MAT) using prescription Suboxone (buprenorphine) for the treatment of opioid dependence including addiction to heroin and prescription pain narcotics. The MAT program consists of medication management, group and individual therapy and accountability requirements (urine screens, pill/film counts).
The Washington County Youth Services Bureau provides a wide range of innovative and effective programs that empower and enrich the lives of youth and families in Washington County, and provides leadership and support to other youth programs throughout Vermont.
Talking to Your Kids About Alcohol and Other Drugs
Using alcohol and other drugs in early life can have a negative impact on your child's health now, and later on by impacting proper brain development and creating other risks. You are their #1 influence. Parent Up Vermont has tips on how to start and continue to have conversations with your children early and often, no matter how awkward.
 
Prescription Drug Disposal
Properly storing and getting rid of unused prescription medications protects your loved ones and the environment. Here are three easy steps:
1. LOCK: S
tore your medications in a lock box or locked medicine cabinet.
2. DROP: Drop off unused medication at a kiosk or at your local pharmacy or police stations. Find a location in your area.
3. MAIL:  Mail unused medication in a pre-paid envelope. Request a free mail-back envelope.
Treatment is Effective!
Treatment might look different depending on the level that you need. Find the type of treatment that is right for you or your loved one, what to expect, how soon you can get help and the treatment services specific to youth, people who are pregnant or breastfeeding and older adults on our Treatment Options page.
There are a number of treatment options in your community. Find them, as well as answers to common questions you may have about treatment in the Chittenden County Resource Guide.
People Recover!
There is no wrong door to recovery. It is a life-long journey that is not always a straight line. Find recovery opportunities and supports in your area on our Recovery page.
Local Highlights
Regional Prevention Partnerships
The Regional Prevention Partnerships Grant is a customized regional response to reduce alcohol and drug use among adolescents, teens, and young adults. This is a federally funded program that builds on Vermont's experience with the strategic prevention framework. The strategic prevention framework is a way of guiding prevention programs to make sure they stay on track to make a positive change in meeting prevention program goals. The ultimate goal is to have an effective regional prevention network that will collectively cover the entire state, working with centralized support and services.
Regional Prevention Partnerships will work to:
Increase state, regional and community capacity to prevent underage and binge drinking, prescription drug misuse, and marijuana use through a targeted regional approach
Reduce underage and binge drinking among Vermonters aged 12 to 20
Reduce prescription drug misuse and abuse among Vermonters aged 12 to 25
Reduce marijuana use among Vermonters aged 12 to 25
The local RPP lead agency is Central Vermont New Directions Coalition.
The Washington County Substance Abuse Regional Partnership
WCSARP brings partners in prevention, intervention, treatment, recovery and law enforcement together to coordinate services, solve access and care management problems, and erase boundaries of care. The group was recently awarded a Rural Communities Opioid Response Planning Grant from the Health Resources and Services Administration to plan for addressing gaps in the areas of prevention, treatment, recovery and workforce development.
Prescription Drug Mail Back Envelope
The Barre Office of Local Health distributes prescription drug mail back envelopes in the region. These envelopes make it free, easy, and convenient to dispose of unused or unwanted medications. Envelopes can be found at key locations in central Vermont.
Learn More
Alcohol & Drug Abuse in Vermont
Washington County Adolescent Marijuana Use and Other Risk Behaviors
Orange County Adolescent Marijuana use and Other Risk Behaviors
Washington County Profile Regional Prevention Partnership Grant
Orange County Profile Regional Prevention Partnership Grant
Alcohol, Tobacco and Other Drugs – Vermont Community Profiles
Contact Us 
Matt, Substance Abuse Prevention Consultant
802-479-4250