Infant Safe Sleep Resources for Providers and Health Care Professionals
Sudden unexpected infant death (SUID) is the death of an infant less than 1 year of age that occurs suddenly and unexpectedly, and whose cause of death is not immediately obvious before investigation.
Causes: Sudden Infant Death Syndrome (SIDS), Unknown Cause, Accidental Suffocation, Strangulation & Asphyxiation.For more information on how health care professionals can talk to parents about Safe Sleep view these slides from VDH.

Graph from Sudden Unexpected Infant Death Data Brief from Vermont Department of Health, April 2017

2016 American Academy of Pediatrics Recommendations for Safe Sleep
The 2016 American Academy of Pediatrics recommendations are grouped into three levels:
A: Recommendations are based on high-quality scientific evidence indicating high certainty of substantial net benefit, and unlikey to change with future study.
B: Recommendations are based on evidence available to determine effects of recommendations, but there is limited confidence in the estimates.
C: Recommendations based on consensus and expert opinion.
Parents and caregivers want to provide safety for their children. Health care professionals are their most trusted source of information. It is important for health care professionals to understand the research behind the guidelines and to consistently recommend them in order for parents and caregivers to adhere to the guidelines. Parents and caregivers who have attempted the guidelines often find they need help with adherence. They will come to professionals for help. Review these slides to learn more about the safe sleep research findings, and to prepare for conversations with parents and caregivers.
Resources
Resources for Professionals
Summary of JSI research findings
Slide decks
Chittenden County Childrens Advocacy Center safe sleep video
Bronheim, S. Building on Campaigns with Conversations: An individualized approach to helping families embrace safe sleep and breastfeeding. Washington, DC: National Center for Education in Maternal and Child Health. 2017
Centers for Disease Control. Sudden Unexpected Infant Death (SUID) website
National Action Partnership to Promote Safe Sleep: NAPPSS
For more information, or to implement a safe sleep crib audit in your clinical setting, call the Vermont Department of Health Infant Safe Sleep Program staff at 802-863-7333.
Vermont Safe Sleep Campaign Materials
Safe Sleep Campaign Video
Safe Sleep - Clean Crib Video
Safe Sleep - Couch Video
Brochures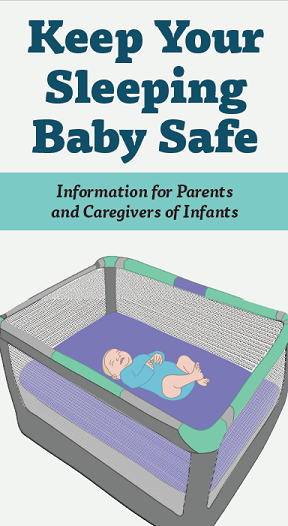 Posters