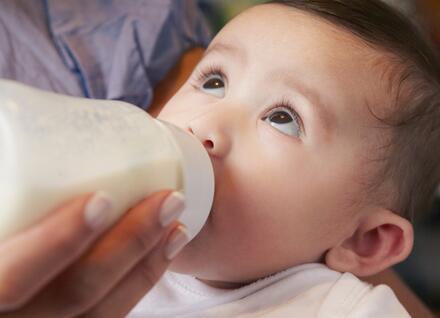 Infant Formula Supply Issues
There is a nationwide shortage of infant formula, and Vermont families report having a hard time finding infant formula in stores. This supply chain shortage grew worse after a recall of certain Abbott Nutrition products in February. Abbott recalled seven different infant products after four babies developed bacterial infections from consuming formula that was produced at a manufacturing plant in Michigan. Abbott is restarting infant formula production at its Michigan facility, beginning with production of EleCare and other specialty and metabolic formulas.
See details about formula recall
Important Safety Information
We understand that this is a stressful and frustrating situation. The Health Department, including the WIC Program and local health offices, is working to support families in keeping babies well-fed with substitutes. 
The following recommendations were developed in collaboration with the American Academy of Pediatrics (AAP) - Vermont Chapter, and will help families safely feed their babies:   
Don't water down the formula you do have.  
Never make homemade baby formula.  
Do not substitute cow's milk, goat's milk, or plant-based milk for infant formula.  
For most babies, it is OK to switch from one milk-based or soy-based brand to another, including store brands. For babies that need specialized formulas, talk with your child's pediatrician. 
If your child is older than 6 months and is usually on regular formula (not a specialty product for allergies or other special health needs), cow's milk can be used – but ONLY for a brief period of time and should not become routine. Talk with your child's pediatrician for more information.
People can also look to online retailers of infant formula. It is very important to ensure they are legitimate and safe sources. Scam sites can result in products dangerous to the baby. Only order from well-recognized distributors and pharmacies. You can check out a company's reputation through the Better Business Bureau.
If You Need Assistance
Vermont families can contact their local health office with questions about the recall and supports for safely feeding their babies.
Vermont WIC Families
Vermont WIC families and others can contact their local health office with any questions and to talk about substitutions. Those using a WIC EBT card to purchase formula can check this list of WIC-approved grocery stores.   
FINDING FORMULA
The grocers in the below list usually carry infant formula. If they or your usual stores do not have formula in stock, check to see if other local stores and pharmacies may some on hand.
List of Grocers

Walmart has added information on their website to find formula through their stores at Walmart Baby Formula Availability.
If you need a specialty formula
Abbott Nutrition has a hotline number for families that need specialty formula. For information and orders, call 1-800-881-0876.
Imported Formula
Additional formula from overseas will be arriving in the United States. Check out the Kendamil, Bubs, Bellamy's Organic, Aptamil, and Care A2+ websites, as well as the FDA Resources page for more information on some of these options. These products may not be available in all stores.

See FDA's Tips for Preparing Imported Infant Formula and AAP's Helpful Facts About Imported Baby Formula.
Breastfeeding
The Health Department also supports families who choose to breastfeed, encourages exclusive breastfeeding for the first six months, and continued breastfeeding for at least the first year of life. If you are expecting a baby in the coming months and are considering breastfeeding, you can find information and online resources to support your breastfeeding success. For people interested in donating their breastmilk, the Vermont Donor Milk Center, Inc. is a milk depot as well as dispensing site. They accept milk from screened donors, store it in freezers, and ship it to the milk bank out of state for processing.
Additional resources