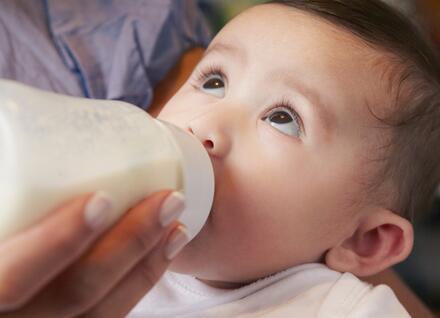 The nation's supply of infant formula is recovering after the February 2022 recall of certain Abbott Nutrition products. Retail stores around Vermont are stocking a variety of infant formula and the market is showing signs of recovery due to increased production by formula manufacturers and FDA approvals for imported formulas. 
See details about formula recall
Important Safety Information
The Health Department, including the WIC Program and local health offices, is working to support families in keeping babies well-fed with breastfeeding support and providing information for families who have questions about formula. The following recommendations were developed in collaboration with the American Academy of Pediatrics (AAP) - Vermont Chapter, and will help families safely feed their babies:   
If You Need Assistance
Vermont families can contact their local health office with questions about formula and for breastfeeding support.
Vermont WIC Families
Vermont WIC families and others can contact their local health office with any questions and to talk about substitutions. Those using a WIC EBT card to purchase formula can check this list of WIC-approved grocery stores.     
FINDING FORMULA
The grocers in the below list carry infant formula. If they or your usual stores do not have the formula you want in stock, check with their Customer Service desk.
List of Grocers

Walmart has added information on their website to find formula through their stores at Walmart Baby Formula Availability.
If you need a specialty formula
Abbott Nutrition has a hotline number for families that need specialty formula. For information and orders, call 1-800-881-0876.
Imported Formula
Additional formula from overseas has been arriving in the United States. Check out the Kendamil, Bubs, Bellamy's Organic, Aptamil, and Care A2+ websites, as well as the FDA Resources page for more information on some of these options. These products may not be available in all stores.

See FDA's Tips for Preparing Imported Infant Formula and AAP's Helpful Facts About Imported Baby Formula.
Breastfeeding
The Health Department supports families who choose to breastfeed, encourages exclusive breastfeeding for the first six months, and continued breastfeeding for at least the first year of life. If you are expecting a baby in the coming months and are considering breastfeeding, you can find information and online resources to support your breastfeeding success. For people interested in donating their breastmilk, the Vermont Donor Milk Center, Inc. is a milk depot as well as dispensing site. They accept milk from screened donors, store it in freezers, and ship it to the milk bank out of state for processing.
Additional resources